HUGE! Play teams with Epic Story Media
Founded by former Hasbro and Fisher-Price execs, the newly launched toyco will create toys inspired by key IPs from Ken Faier's Epic Story.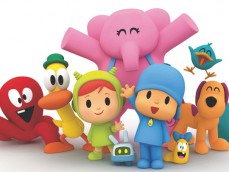 Toy industry veterans Kevin Mowrer, Adrian Roche and Dave Ciganko have launched direct-to-consumer toyco HUGE! Play with a bang, unveiling an agreement with Toronto-based content creator and distributor Epic Story Media.
Teaming with the company founded by former WildBrain SVP and executive producer Ken Faier, HUGE! Play's first partnership will see the creation and production of toys inspired by key IPs from Epic Story Media's slate, which includes titles like Dolph N Fince, Chaotic and Pocoyo (pictured). Each IP will be selected on a case-by-case basis, with Rhode Island-based HUGE! Play creating, producing and distributing the toys.
Prior to launching this venture, Mowrer, co-CEO of HUGE! Play, served as SVP of design and development for Hasbro. Co-CEO Roche, meanwhile, was managing director of Fisher-Price/Kiddicraft in the U.K. and president of North America for Alpha Toys. Additionally, chief development officer and co-founder Ciganko spent nearly 40 years as a creator and executive at Fisher-Price/Mattel. According to a press release, HUGE! Play is expected to bow its first products in North America next year before expanding internationally.
Launched by Faier in 2017, Epic Story Media previously secured investment from Bron Studios' Ventures division in 2018, giving Epic Story Media additional capital to invest in IP development and brand management. Last year, former eOne executive Jessica Labi joined Epic Story Media as head of distribution and brand strategy alongside former Nickelodeon exec David Sztoser, who serves as head of licensing and merchandising at the Canadian company.
A version of this story originally appeared in Kidscreen