In brief: Helga Stephenson, Divya Shahani to co-chair POV
Plus: Hot Docs has launched a new short pitch competition with Al Jazeera and two Canadian docs receive a grant from Sundance Institute.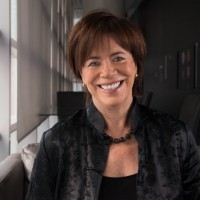 POV names two new co-chairs
Former Canadian Academy CEO Helga Stephenson (pictured) has been named co-chair of non-profit training program POV alongside entertainment lawyer Divya Shahani. POV is a training and skills development centre founded more than a decade ago to give opportunities for diverse youth in Canadian film and television. Stephenson previously served as the executive director of the Toronto International Film Festival and launched the Human Rights Watch International Film Festival. Shahani is an associate at law firm Hall Weber LLP. POV recently launched the Production Assistant Training Program as five-week training program launched with the City of Toronto to help black young-adults get their foot in the door as a production assistant.
Hot Docs launches short pitch competition
Toronto's Hot Docs has partnered with Al Jazeera to launch a new short pitch competition for the 2020 festival. The prize will award up to US$50,000 to at least one winner and will premiere on Al Jazeera English's docuseries Witness. Up to six filmmakers will pitch their concepts during the festival on May 4 with applications opening Feb. 10. Canadian citizens, permanent residents and those with refugee status are all eligible to apply. Hot Docs runs from April 30 to May 10.
Canadian docs receive Sundance grant
Two Canadian documentaries have been selected for the Sundance Institute | Luminate Fund. Influence, directed by Diana Neille and Richard Poplak, and Softie, directed by Sam Soko, are among six recipients for the fund, which gives a grant to indie filmmakers whose documentary or narrative work shows potential for social and cultural impact, with a focus on supporting post-production and campaigns. Both docs are in competition at this year's Sundance Film Festival. EyeSteelFilm's Bob Moore is a producer on Influence and an executive producer on Softie. The fund was first established in 2019.