PJ Masks kick into season five
Produced by eOne and Frog Box, the latest round of episodes is slated for delivery next year.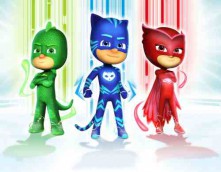 Entertainment One (eOne) has started production on PJ Masks' fifth adventure.
Produced by the Toronto-headquartered global entertainment studio and Frog Box in collaboration with Disney Junior and France 5, the preschool series follows heroes Catboy, Owlette and Gekko – kids who turn into superheroes at night.
This latest batch of episodes – which runs 52 x 11 minutes – will see the trio explore new locations as well as face new villains. Season five of the show is slated for delivery in 2021.
This renewal follows the news that U.S. toyco Hasbro has completed its acquisition of eOne, bringing eOne brands like Peppa Pig and PJ Masks under Hasbro.
"The addition of eOne accelerates our blueprint strategy by expanding our brand portfolio with eOne's beloved global preschool brands, adding proven TV and film expertise, and creating additional opportunities for long-term profitable growth," Hasbro chairman and CEO Brian Goldner said in a statement addressing the completed acquisition.
According to a release from eOne, annual global retail sales of PJ Masks now reach over USD$1.1 billion with consumer products programmes established in 85 markets worldwide and a growing presence in Asia.
Season four of PJ Masks is set to launch on Disney Junior globally in spring 2020. Additionally, this fall will see Okoo, France Télévisions kids platform, launch a 44-minute special episode of the show.