In brief: Production moves at LaRue Entertainment, Carousel Pictures
LaRue has hired Ariella Naymark (pictured) and promoted Tyler Metcalf, while Katelyn Cursio has been upped at Carousel, and more.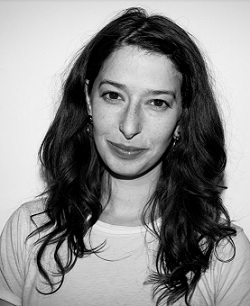 LaRue bolsters production team with hires, promotion
LaRue Entertainment has hired Ariella Naymark (pictured) as the Toronto prodco continues to build out its production team. Naymark, a coproducer on films including Run This Town and Random Acts of Violence, joins LaRue as it looks to expand its roster of digital series and feature films. Her other production credits include Viceland's cult comedy series Nirvanna the Band Show.
LaRue, led by principals Matt King and Andrew Ferguson, has also promoted Tyler Metcalf to head of production. In the role, Metcalf will oversee the company's growing slate of digital series and film projects. Most recently, LaRue went into production on season five of The Amazing Gayl Pile. 

Katelyn Cursio promoted at Carousel Pictures
Katelyn Cursio has been upped to the role of producer at Carousel Pictures. Cursio, who has been with company in a variety of roles since it was formed in 2013, will produce alongside Carousel's Tyler Levine. Previously, Cursio served as production coordinator on Sundowners and production associate on Trench 11, both of which were produced Carousel. The prodco is currently working on a second season of First Person, a digital series it produces in collaboration with The Globe & Mail. The anthology series, based on stories from the publication's First Person section, recently received CMF funding for its sophomore season.
ZoomerMedia Limited names Terence Chan as new CFO
Effective Feb. 1, Terence Chan will be ZoomerMedia Limited's new CFO. With over 25 years of experience in all areas of finance, Chan's resume includes roles at AstraZeneca, Novartis Consumer Health, Astral Media and Ornge. Most recently, he served as director, finance & administration for Health Shared Services Ontario. A press release announcing Chan's appointment highlighted his past position as director of finance for Astral Kids Television, noting that his role in the expansion of the business via the launch of Disney Junior, Disney XD channels and their digital offerings, made him a good fit for ZoomerMedia.
Chan steps into the shoes of outgoing CFO David Vickers – who joined the in January 2013, working his way up from VP, finance to ZoomerMedia's CFO role. According to a release, Vickers resigned in order to pursue other interests. His last day will be Jan. 31, 2020.