Follow the money: How Canadian creators are rocking it on YouTube
Column: Irene Berkowitz examines how Canadian creative entrepreneurs are monetizing their content both on and off the platform.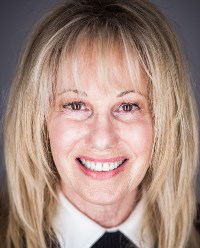 Much information is collected on Canadian legacy media creators, but data on new media creators has been sparse. A recent study by Audience Lab at Ryerson University Faculty of Communication and Design (FCAD) conducted original research to deliver Canadian data about the impact of YouTube on Canada's media ecosystem. The report's 50 charts include demographic, employment, earnings and export figures.
Founded in 2005, YouTube organizes the world's videos. Free to consumers and creators, the platform costs more than $6 billion annually to maintain. YouTube's 2 billion monthly global audiences include 17 million Canadians of all ages across the country.
Before we dig into the findings of Watchtime Canada (I was lead researcher/author with co-authors Dr. Charles H. Davis and Hanako Smith), here's the bottom line: amidst global competition and without subsidies, Canadian creators are rocking it on YouTube.
In this article, we get down to business: we follow the money.
Jobs and Earnings 
YouTube has given rise to about 40,000 new Canadian creative entrepreneurs, the majority below the age of 35. They are producers in every sense of the word, whose work translates to about 28,000 full-time equivalent (FTE) Canadian jobs: 15,760 direct FTE's plus 12,173 FTE's in four categories of media workers hired in production, business, marketing and administration. Per the chart below, there is a shift from part time to full time as revenue increases; 70-90% of YouTube producers with channels earning more than $50,000 devote full time to YouTube.
Like much digital era work, the job of YouTube producer requires synergy of qualitative and quantitative skill sets. Because YouTube's success depends on creators' success, the platform offers free online education: Creator Academy teaches content management. YouTube Studio delivers live, comprehensive audience data.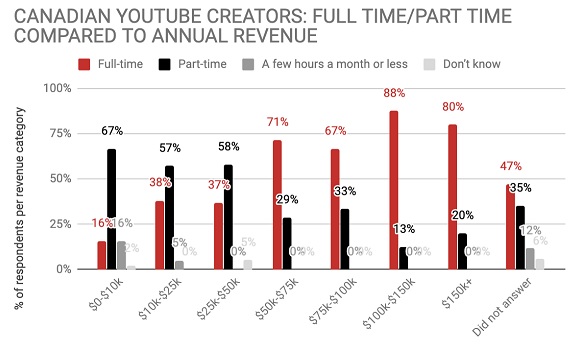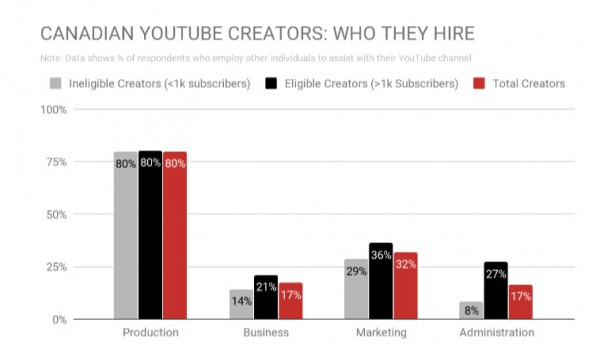 New Canadian money has been earned on YouTube. Like all creative media work, producing a YouTube channel is risky business. 70% of channels eligible for monetization (minimally requiring 1,000 subscribers) reported earning some form of revenue. From this group of eligible YouTubers who earn revenue, 60% generate $10,000 or less. Yet, 15% generate more than $50,000 gross revenue annually; 12% generate $75,000 or more; 9% generate $100,000 or more; and 6% report generating $150,000 or more. The research included only creators uploading from Canadian emails, so the data is not skewed by Canadian YouTube superstars who have relocated to the U.S.
YouTube's business model is to split advertising revenue with creators (55% to creators, 45% to YouTube). Off-platform earnings were examined, noting that  YouTube takes no cut of this additional revenue and has no information about it. Per the chart below, spin-off opportunities include brand deals, sponsorships, live appearances and deals for other media such as books, legacy TV, movies, documentaries, music, and podcasts. On YouTube, a revenue mix between advertising and spin-off revenue appears to be the norm. The study suggested that channels with appeal to high-value audiences can deliver viable family incomes, even with low on-platform earnings.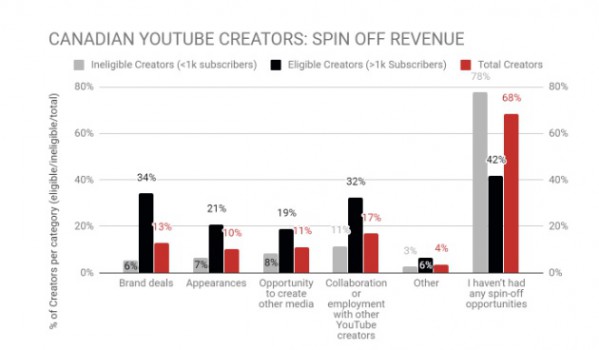 Audiences and Export
Audiences have long been a challenge for Canadian content. In contrast, YouTube is a popularity contest that Canadians are winning. Canadian YouTube producers lead the platform in exports with 90% of views outside Canada, while the platform's national average is 50%. Canadian YouTube creators report their largest audiences are in Canada, U.S. and internationally, in that order.
Canadian YouTube producers highly value YouTube's affordance of instant, free, global export and, per the chart below, believe that any policy that might restrict access to global audiences would harm their earning power. Here's a typical  comment amidst 9,000 qualitative responses: "I love to inspire the world with my Canadian creativity." Canadians have created channels that are global hits in every YouTube genre.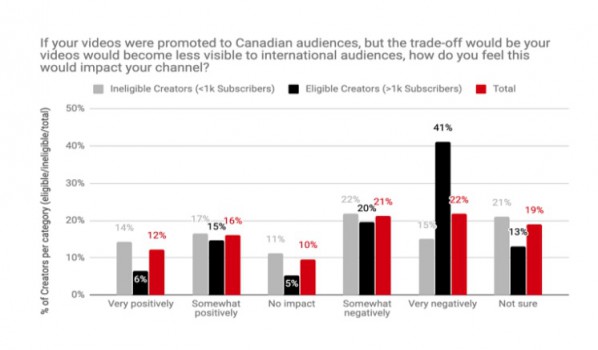 Billions of views 
Our superstars include Justin Bieber  (20 billion views, discovered on YouTube); Shawn Mendes (8 billion views, learned guitar on YouTube); Lilly Singh (3.2 billion views, hosts a late night NBC talk show); The Weekend (9.3 billion views); Drake (6.8 billion views) – and more.
There are many less familiar Canadians with billions of views. YouTube's top gaming channel is VanossGaming (12 billion views) by 27-year-old Evan Fong of Richmond Hill, ON who earned 17 million in 2017. Markham, ON's Lewis Hilsenteger's Unbox Therapy (3.3 billion views) is a top technology channel. Toronto's Skyship Entertainment's Super Simple Songs (17 billion views) and Montreal's WatchMojo (12.8 billion views) are so mega they have become studios. AsapSCIENCE by Guelph's Gregory Brown and Mitchell Moffit (1.3 billion views) is a top learning destination. Vice (2.5 billion views), the pan-media news service was founded by Montreal entrepreneurs Suroosh Alvi, Shane Smith and Gavin McInnes. Genre crossovers include comedy-food channel from Montreal, Epic Meal Time (1 billion views), comedy-beauty channel from Ottawa, SimplyNailogical(1.5 billion views); lifestyle-music channel by Ryerson alum, LaurDIY LaurDIY(1.2 billion views) – and many more.
Millions of views
The Canadian hit parade continues. GigiGorgeous (492 million views) is a top transgender channel with a book, movie, and more.  The Hacksmith (613 million views) inspires kids to learn STEM. FaZe Pamaj (610 million views) stars Austin Pamajewon from Shawanaga First Nation. Blind beauty vlogger Molly Burke  (130 million views) was featured in the February 2019 Teen Vogue. Aysha Harun (23 million views) bills herself as "a Canadian gal redefining what it means to be beautiful." Who can forget the indie band, Walk Off The Earth (818 million views), whose cover of "Somebody That I Used to Know" topped 175 million views? 
Amanda Muse (10.3 million views) evolved from Mommy vlogger to trans-media lifestyle brand featured on Time.com. The Icing Artist (847 million) leaped from 30,000 to a million subscribers when creator Laurie Shannon used YouTube's free subtitling to reach global audiences who wanted to learn cake decorating. There are TheSorryGirls (226 million views); Peter McKinnon (282 million views); Home RenoVision DIY (80 million views); and ElleOfTheMills (159 million views), a Filipino-Canadian creator from Ottawa who won the 2018 "breakout YouTuber" Shorty Award – and many more.
As suggested by these brief lists, the Ryerson study corroborated the diversity of Canadian YouTube creators, a market-driven outcome achieved without quotas.
Social Blade
Lastly, here's a fun metric that merges audiences with revenue: Social Blade data, sourced Dec. 11, 2019, for ten of the channels mentioned above. The wide ranges in estimated yearly income are due to variations in global digital ad rates; they do not include off-platform earnings, which can be a majority of revenue.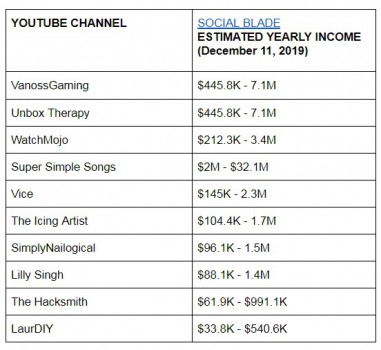 Why are Canadians rocking YouTube?
This month, the Broadcasting and Telecommunications Legal Review (BTLR) panel will table policy recommendations to strengthen Canada's 21st century media system. Watchtime Canada suggests follow-up questions: Why are Canadian producers rocking YouTube? Could the absence of quotas or subsidies be a reason? Might Canada's YouTube creators do even better with access to producer-accessed, platform agnostic funding, perhaps the type of simple point system that previously been suggested? What might the policy implications be for legacy media creators?
In four decades and billions in public support, the legacy framework has not delivered popular content. In a decade and a half, YouTube has. Might open competition be essential to conquer the ultimate media challenge: to win the battle for attention?
Irene S. Berkowitz, PhD, is Ryerson University's Policy Research Fellow in the Faculty of Communication and Design (FCAD) and an Instructor in the Ted Rogers MBA.
Image: Shutterstock