Corus partners with Neshama, Champlain on original MOWs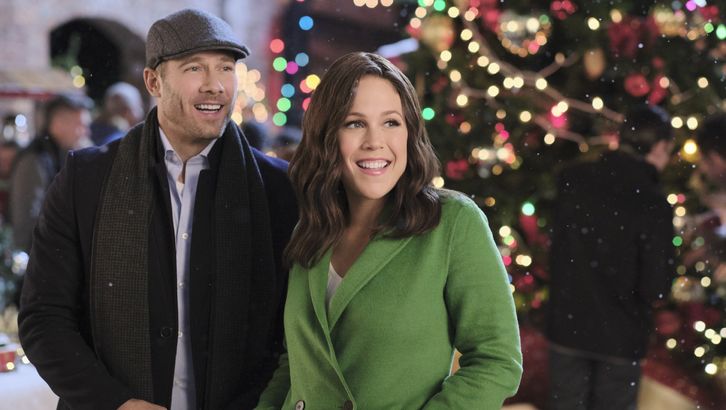 The broadcaster has 50 films on its slate, some of which aired during 2019's Countdown to Christmas, as part of a commitment to boost independent Canadian production.
Corus Entertainment has partnered with Neshama Entertainment and Champlain Media to produce original scripted made-for-television films.
The announcement is part of a 50-film slate of Corus originals to be released for its specialty channels including Lifetime, W Network and Showcase. The move is part of a commitment from Corus to bolster domestic production and cultivate local talent.
Eight of the 50 films have already aired in the 2019 Countdown to Christmas programming with Hallmark Channel, including Christmas at Dollywood, starring Dolly Parton, and Sense, Sensibility and Snowmen (pictured).
"By investing in Canadian movies, we are delivering more of the quality content and passionate storytelling that continues to drive growth across our networks and attract advertisers," said Lisa Godfrey, VP, original content at Corus Entertainment, in a statement.
Titles produced by Champlain Media are Cherished Memories: A Gift to Remember 2 for W Network, and The Madison Trilogy and Dying to Be You for Showcase. Neshama will produce titles in based on VC Andrews' Casteel Family book series, as well as Mistletoe & Menorahs and The Alleged Abduction, all slated to air on Lifetime. Both companies hold the distribution rights to their respective films.
Corus also announced W Network's Movie Date, an interstitial series hosted by Global News Morning Toronto's Jennifer Valentyne, set to launch on Feb. 1 with its Valentine's Day-themed programming.
Neshama Entertainment was founded in 2018 as a partnership between Canadian producer Arnie Zipursky and L.A. prodco and distribution MarVista Entertainment. The latter holds a minority stake in the company. Former eOne exec Suzanne Berger joined the company in spring 2019 to serve as VP, production.
Reel One Entertainment's founder CEO Tom Berry is the majority shareholder of Champlain Media, and Reel One holds a minority interest in the company. Champlain is currently on the hunt for for a COO to work from its Canadian offices in Toronto and Montreal.
Bell Media is also in the MOW business. The broadcaster previously announced a deal with publisher Harlequin's studio division to air original films for its CTV Drama channel.
Image courtesy of Crown Media