The new showrunners: Evany Rosen and Kayla Lorette
The co-showrunners of Crave's new Canadian comedy, New Eden, discuss navigating their roles, the development process and what's next for them.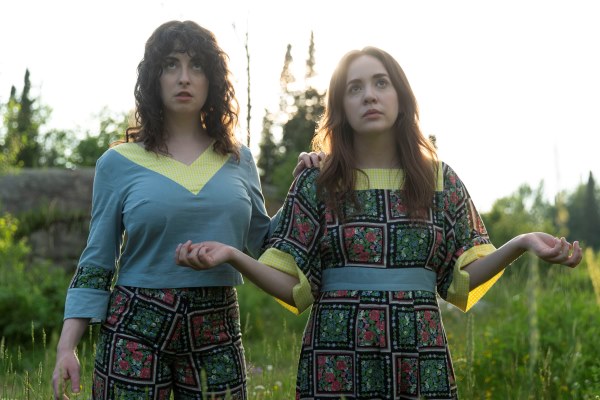 With the start of a new year comes a new opportunity. And with the genesis of Crave's new original comedy New Eden – which aptly made its debut on Dec. 31st – Playback Daily is shining a light on the rising talent taking the reins in Canadian TV.
Here, writers and co-showrunners Evany Rosen (Baroness von Sketch Show, Mysticons, pictured left) and Kayla Lorette (Kim's Convenience, Gary and His Demons, pictured right) who lead the "fictional documentary" series produced by Peacock Alley Entertainment, in partnership with Crave, give an inside look at their development and decision-making process.
Playback Daily: Where did the idea for New Eden come from? 
Kayla Lorette: I knew we had this opportunity to pitch something to Carrie Mudd at Peacock [Alley Entertainment]. We've been very good friends for a decade now. We never worked on anything together, so we were like 'OK, let's do a project together.'
Evany Rosen: Let's do the most ambitious project we could ever possibly do together – first. Let's start with that.
KL: It was three years and a lot of brain cells. Usually, we're just kind of talking about things of mutual interest and things that we enjoy and true crime, and specifically cults within true crime is something we both loved very much. It feels so zeitgeisty now, but the question was – what does a cult look like if it's led by two women? That started the journey of world building.
ER: We wanted to explore the shape of women at the helm of a community like that and how their personalities would allow them to dominate and manipulate people. We also knew that we wanted it to be a comedy but that the only kind of true-crime comedies we had seen were very much in the mockumentary style. Something like American Vandal, where the stakes are very low but played very high. We knew we wanted to do something different where the stakes are quite high – there's murders – and it's intense but the comedy comes just from the characters themselves being ding-dongs in the midst of all those real murders.
PD: In terms of you two being the stars of the show – was that a difficult conversation to have with your producing partners? Or were they on board from the get-go?
ER: It was always going to be a vehicle for us. We had an improv show together called Network Notes, which was actually the first thing we did together. And I had worked with Carrie Mudd before and she approached me and said 'I want to try to develop Network Notes with you and Kayla into a show.' Then we all sat down and we were like, 'this is an improv show and should not be filmed.' It would be quite boring if it is, so then we started thinking about something else.
Luckily for us we didn't have to fight for that. Again, because of Network Notes [and] just a longtime friendship, we feel [we] have a lot of chemistry together and love to perform together. So creating something around us, we didn't have to sell that.
KL: Also yeah, the performance aspect was another part of it. Let's design these roles into something we really want to play, something we really haven't seen or haven't gotten to audition for. We usually audition for: hacker, best friend who's quiet…
ER: Best friend – who's quiet, sarcastic hacker…
KL and ER together: Sister…
ER: Sister, that is just in the one scene, flaky sister…
KL: Office woman. Fun for us.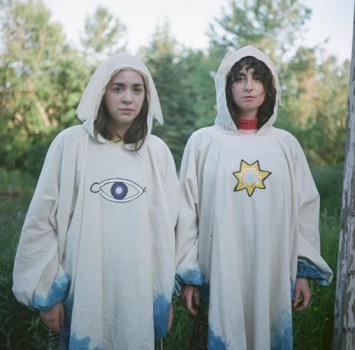 PD: New Eden sees you both serve as co-showrunners for the first time. What steps did you take to help prepare yourselves for being thrust into the role?
KL: Over the years we have built a toolkit of different skills and things in the different work that we've done. So I think there were things that we were ready to be good at and excel at and have expertise in. But then, very early on, once we got the development deal even, we were like let's be very open about areas where we are green or we don't know and be very comfortable asking those questions and let's just create an environment for ourselves where we're not afraid to ask how does this work? What is this? What is expected of us here? And always just try to find a balance of the unknown vs. our intuition and what we did have skills in already. I think that was a lot of emotional and conversation prepping to start off so we wouldn't get overwhelmed. And we had each other to always bounce off things, to be like, is this weird or do you feel confused?
ER: A lot of the time it's just us standing in our trailer in full wardrobe going 'do you feel weird?' Yes.
KL: Should we say something?
ER and KL together: Yes!
PD: And building your crew – was it mostly writers and directors you had worked with in the past? What did you look for?
ER: I think for writers, we really settled on our group quite quickly. I had worked a lot with a couple of our writers – with Jocelyn Geddie and Laurie Elliott in the animation world and a ton of other places, and Kayla had worked a ton with Zack Russell, they had created shorts together – so those were all natural people to bring in. And we knew Aisha Brown was someone we really wanted to work with and she fit into that group so beautifully. And then Rebecca Raftus was someone we had been really excited to work with and had with through [comedy bar] Laugh Sabbath. So putting together that room was really instant. We didn't interview, that's just the way we chose to do it and it was perfect.
I remember when we finally settled on the last few names, Kayla turned to me, and we were walking down the street and she [asked] 'what's weird about this writers room? Something feels off.' We realized it was there's no duds in this room.
KL: You don't have to have the person who cuts you off and makes you feel bad.
ER: The one that unravels the plot at 3 p.m. Don't bring that guy.
KL: You don't have to hire him. Then when it came to directors, we interviewed a bunch of people, but then Aleysa Young's name was brought up. Obviously she's incredibly talented and skilled, but also just her vibe. Vibe was very important across the board. We wanted everyone to feel like kin, that they have the same kind of sense of humour and way of communicating – it just made all so much more fun all the time and just really efficient…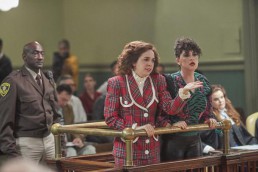 PD: How did you two balance the restrictions of time and money when bringing your vision for New Eden to screen?
KL: We're always talking about narrative first. In terms of budget or having to navigate those things, [we] would always be able to ask ourselves is this forwarding the story and of course, sacrifices have to be made along the way. But that's always a check-in that we would have.
ER: And I think understanding, we're comedians, we love being funny. But something we were both really clear on and really speaks to our taste and our vision was like Kayla said, really functioning narratively and trusting that the show was going to be funny regardless. So if a joke was going to cost a lot of money or a set piece was going to cost a lot of money and it didn't really serve the story, those would be the kind of decisions where we knew we needed to cut.
KL: In an initial script, we had an entire giant catapult that we wrote, but we understood…
ER (talking over one another): That that would be the first to go, absolutely.
KL: That we were not allowed to have that.
PD: With those conversations were there times when you said we really need to dedicate a lot of money towards this, etc.?
ER: Absolutely, and what was really nice for us was both Crave and Peacock really understood the vision of the show and we all understood that we were working within the constraints of a budget, which you always are. But there were certain things where if it was going to cost more, everyone kind of agreed that that's the creative we bought, that's the creative we want and it has to work, and everyone really supported us in those more expansive set pieces.
KL: Yeah and being very transparent with all creative teams, that there are some things we're willing to sacrifice and here are the three-to-four that are very important to us and we need to work around these to make it happen. But we were so lucky to have such a good production team that was able to do things so cheaply, that were very ambitious.
ER: Yeah, Chris Crane, our production designer, is just a wizard that way. And he was able to create things that just looked so expensive out of, honestly, what felt like MacGyver-ed plywood and rubber bands.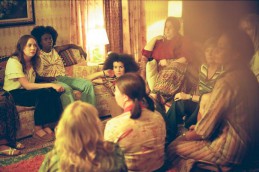 PD: And what were these top priorities?
ER: Well, clearly the catapult was big. One that we can point you to in terms of narratively is if you watch the beginning of episode three, which we're really proud of, which is a drawn animated sequence by Heather Goodchild, who's an incredible artist. We went with a fully animated sequence and when we started looking at the numbers for what that was going to cost to fully animate her work and bring in an animator, it just wasn't feasible. But everybody agreed that that set piece still needed to exist so we… had several meetings and went back to the drawing board quite literally and that ended up being one huge series of paintings that Heather did that we filmed in tabletop, and then animated after. That was one [where] we managed to save thousands of dollars rethinking how that would work, while still honouring the creative.
PD: Going back to the idea of balancing your time and your money – would it have been easier working alone vs. working together?
KL: We have always believed that it's always a bonus having a partner because when it does come down to discussions of what are priorities, what do we want to spend the money on, we can have that discussion with each other. Talk it out, brainstorm what our options were. I think being alone – you'd have to trust your gut in some way without any discussion. We were lucky.
ER: I think that, as well as everything else we talked about, [working together] was part of our collaborative process. I don't think there's any aspect of the show that we would say we have rather done alone. That's part of why we entered our creative partnership as we did. We really leaned on each other and it was so helpful to be able to put our heads together.
PD: Looking forward, do you have any other projects in the works?
KL: The process of the show has been about three and a half years since we conceived of it and then we've been going non-stop since March, when we had our film day and we've been very involved in the post. So I think at this point our brains are…
KL and ER together: Damp, flat and stupid.
KL: I think obviously we'll have future projects, but it's also if we get the opportunity to have a second season. The show is built as an anthology so the second season would be an entirely new story still centred around two women and a crime. But we really want to strive to have the same level of detail and ambition that the first season has.
ER (KL also repeating): That's going to take a while.
KL: We're saving our creative energy to work on that, if we get the opportunity to because it will be a shorter development time and we want to hold ourselves to the standard of the first season in the second season.
ER: With a whole new story, new characters, new idea and a new doc.
Executive producers on New Eden include Lorette, Rosen, Mudd, Young, Ryan Valentini and Bell Media president Randy Lennox. This interview has been edited for length.
Images of New Eden courtesy of Bell Media.