Murdoch Mysteries hits milestone 200th episode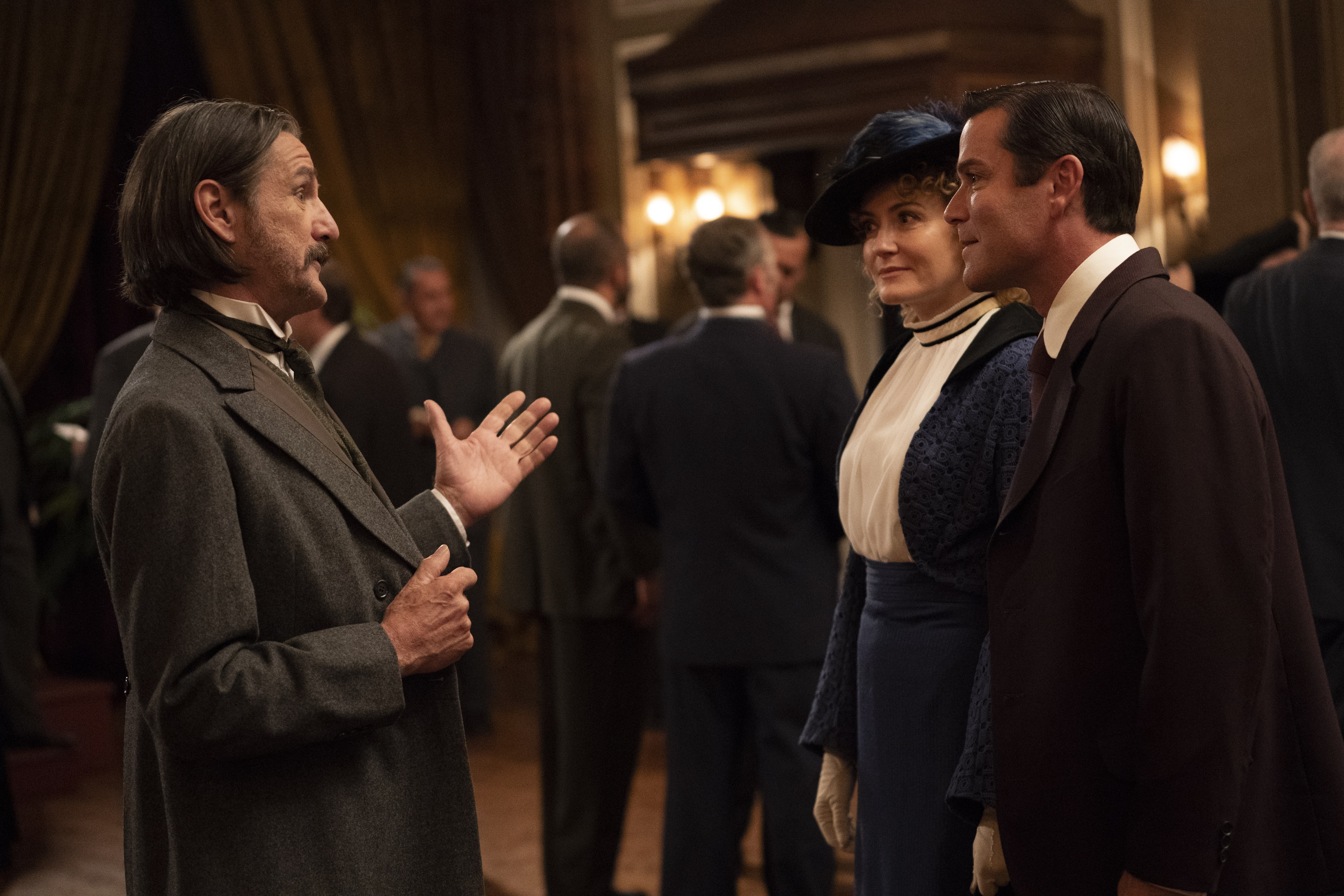 Peter Mitchell and Christina Jennings on how Murdoch weathered the storm to become one of the most enduring hits in Canadian TV history.
When showrunner Peter Mitchell was brought onto Murdoch Mysteries after its fourth season, he suspected he was being recruited to oversee the show's final season.
"Canadian TV traditionally lasts around five seasons, so I thought I was coming in to bat cleanup on season five," Mitchell told Playback Daily.
And for awhile it looked like Mitchell's original instinct may have been correct. In fall of 2011, following its fifth season, the Shaftesbury-produced series was cancelled by Citytv.
But Shaftesbury founder and CEO Christina Jennings has never been one to go down without a fight. "I knew in my heart it wasn't over," said Jennings, who promptly placed a call to CBC's then-EVP of English services Kirstine Stewart.
Within 48 hours, the show had been revived on the public broadcaster, beginning one of the most successful runs in the history of Canadian television.
Season five, debuting in spring 2012, drew an average audience of 718,000 (2+), but it wasn't until season six that Murdoch began to consistently attract more than 1 million viewers a week. That trend has continued for the past seven seasons, with season 12 drawing an average audience of 1.1 million viewers, according to Numeris data provided by CBC.

In that time, CBC and Shaftesbury have added Christmas movies and a robust pipeline of fan events (including a multi-city interactive murder mystery and Murdoch-themed escape room experiences) to further engage the rabid and loyal followers of the show, which is originally based on the characters from Maureen Jennings' Detective Murdoch novels.
On Monday night (Jan. 13), the show aired its 200th episode – a remarkable milestone for any hour-long Canadian drama, and one matched in recent times only by Heartland (Seven24 Films and Dynamo Films).
For Mitchell, the show's longevity has depended on a pair of main factors: the original casting, and the ability to conjure fresh storylines, even after a double century of episodes.
On the talent side, stars Yannick Bisson and Hélène Joy have long been darlings of Murdoch's global fanbase, with both being well-recognized faces across the globe, especially in the U.K. (where it airs on Alibi Channel) and France (where it airs in prime time on public broadcaster France Télévisions). Meanwhile, on the story, Mitchell said the team of scribes (including writer Paul Aiken, who has been with the show since its very first episode) strive every day to find new and fresh ways to tell Murdoch's stories.
"Even though, on the surface, the show can seem somewhat formulaic, we've basically danced between doing almost every genre of TV inside that formula – from farce to comedy to melodrama to sci-fi to straightforward murder mysteries," he said.
Murdoch has been a vibrant training ground for many emerging talents coming through the ranks. On the acting side, that's included Siobhan Murphy and Giacomo Gianniotti, while a number of directors such as Leslie Hope and Mina Shum gained their first gigs in directing episodic TV on Murdoch.
As well, the series spawned a spinoff in the form of Frankie Drake Mysteries (CBC), an hour-long series created by two former Murdoch writers – Carol Hay and Michelle Ricci – while they were working on the series.
Murdoch's importance as a business-builder for Shaftesbury should also not be underestimated.
"It demonstrated that we as a company know how to tell the story and reach a large global audience, not just a Canadian audience," said Jennings. "So that when we come on to do our next procedural, like Frankie Drake, or our next one Hudson and Rex, it shows that the company has a real handle on how to make a series like this."
As for what comes next – and how far the series could go – Jennings said it is always impossible for producers to predict what the next year might hold. However, she feels the series has plenty of gas in the tank and that it could be many more years before Detective William Murdoch solves his last case.
"When you make enough shows, often you can start to see the end. And it's funny – weirdly, we can't see the end of it."
Image courtesy of CBC