'The Body Remembers' wins TFCA's Rogers Best Canadian Film Award
Deragh Campbell was also awarded the association's $10,000 Stella Artois Jay Scott Prize for an emerging artist.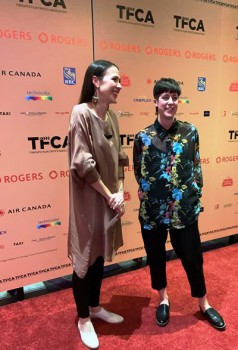 The Body Remembers When the World Broke Open has been named the winner of the Toronto Film Critics Association's coveted Rogers Best Canadian Film Award.
Known as "the richest annual film prize in Canada," the $100,000 award was presented to co-directors and writers Elle-Máijá Tailfeathers and Kathleen Hepburn by author Margaret Atwood at a ceremony held at Toronto's Omni King Edward Hotel yesterday (Jan. 9).
"When we made this film we weren't really sure how audiences would respond to it because it's this little film about two Indigenous women in East Vancouver, that takes place over 100 minutes," Tailfeathers (pictured left) told attendees at the annual event. "But people have responded really well and it's because of many of the beautiful reviews that we've received from critics that audiences have wanted to come and see our film. It means so much from me, in particular, as an Indigenous woman to know that Canadians care about this story, that Canadians care about people like Rosie and Áila."
Hepburn (pictured right) also thanked female film critics, the TFCA and Rogers for their support, but also warned attendees to remember that there are very real issues behind the film. Closing out her speech, she said she hopes The Body Remembers When the World Broke Open "reminds you that as a country, you're not yet healed from the fractured past and there's much work to do."
Produced by Hepburn and Tyler Hagan's Vancouver-based banner Experimental Forest Films, Vancouver's Violator Films, Norway's Oslo Pictures and Tannhauser Gate, The Body Remembers When the World Broke Open stars Tailfeathers and Violet Nelson, following the story of an Indigenous woman who comforts a stranger she finds crying in the street after a traumatic event.
Marking Tailfeathers' directorial debut, the Vancouver-shot drama made its world premiere at the Berlin International Film Festival and screened as part of the Toronto International Film Festival this September. The film has picked up a number of awards, most recently earning the Best Canadian Film, Best British Columbia Film and Best Director for a Canadian Film prizes at the Vancouver Film Critics Circle's annual awards ceremony earlier this week.
All told, the drama competed against Telefilm Canada's International Oscar pick Antigone from director Sophie Deraspe and director Jasmin Mozaffari's feature debut Firecrackers, which earned a directing nod from the 2019 Canadian Screen Awards, for the TFCA's prize. As runners-up, both Deraspe and Mozaffari each received $5,000 from Rogers Communications.
The evening also saw actor/writer/director Deragh Campbell – who recently starred in writer/director Kazik Radwanski's Anne at 13,000 ft. – win the TFCA's $10,000 Stella Artois Jay Scott Prize for an emerging artist.
As previously announced, the 2019 Technicolor Clyde Gilmour Award was presented to former TIFF executive director and COO Michele Maheux, who selected Colombian-Canadian filmmaker Lina Rodriguez as the beneficiary of the award's $50,000 in services from Technicolor Creative Services.
The TFCA also honoured Victor Stiff with the second annual RBC TFCA Emerging Critic Award, presented by Rick Mercer; American Factory with the Allan King Documentary Award, presented to co-producer Yiqian Zhang; and director Chris Butler with the prize Best Animated Feature for stop-motion film Missing Link, to name a few.
With files from Liza Sardi