A71 Entertainment appoints Justin Rebelo as CEO
Rebelo joins the distribution outfit from eOne, where he served as VP overseeing television and digital distribution for English Canada.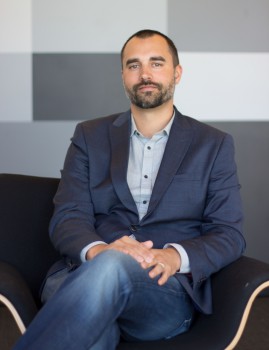 Ontario-based distribution company A71 Entertainment has appointed former eOne executive Justin Rebelo as its new CEO.
The long-time industry exec previously served as eOne's VP overseeing television and digital distribution for English Canada. He has also held senior positions at a number of other companies including HBO Canada, Super Channel, EPIX (U.S.) and Much Music.
The hire announcement comes as A71 gears up for the Jan. 31 theatrical release of Rabid, a remake of David Cronenberg's 1977 horror feature. The project is written and directed by Jen and Sylvia Soska (aka the Soska sisters) and produced by Back 40 Pictures with the participation of Telefilm, Ontario Creates and London-based Media Finance Capital. Producers on the film are Michael Walker, Paul Lalonde and John Vidette.
Rebello previously served as the executive in charge of production on projects such as Bruce McDonald's Pontypool, Lixin Fan's Last Train Home, Ron Mann's documentary Altman and Super Channel comedy Tiny Plastic Men.
More recently, he served as lead producer on the Winnipeg-shot feature Room for Rent, produced by Musterios Entertainment, Farpoint Films and El Duo Motion Pictures.
In June, A71 Entertainment revealed that newly appointed COO Susan Curran was taking over the day-to-day running of the company as it relocated from Toronto to a new office in Hamilton, ON. At the time, A71 Entertainment founders Chad Maker, David Miller and Kirk Comrie stepped back from the daily running of the distribution business, with Miller and Bill Marks remaining as owners of A71 Entertainment. As well, Marks moved into the new role of executive chairman of A71 Entertainment, with Miller continuing to head up the production unit, A71 Productions.