Cineplex-Cineworld deal raises questions for domestic film industry
Industry seeks reassurance that Cineworld or another buyer will put Canadian considerations on its priorities list.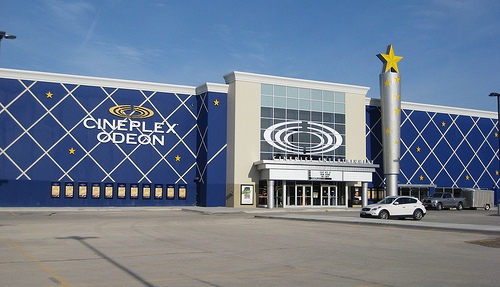 News that Cineplex is to be acquired by U.K.-based Cineworld Group stunned many industry watchers when it was announced on Monday.
Under the proposed deal, which is valued at around $2.8 billion dollars, Cineplex will move under the same parent company as U.S.-based Regal Entertainment, forming a mammoth cinema-ownership entity with screens spanning 11,200 screens across North America and Europe. A number of regulatory requirements must still be met if the transaction is to close, including approvals from Investment Canada and the Competition Bureau.
Across Canada's filmmaking ecosystem, the deal has raised questions of how Cineworld will implement some of its strategies in Canada and what foreign ownership of Canada's biggest theatre chain means in the long term.
Primary to the plans Cineworld rolled out on Monday is the introduction of its "Unlimited" programme, a subscription membership that it has already implemented in both the U.K. and U.S. The service would likely be modeled on Regal Cinemas service, which costs around USD$18-24 per month.
Cineworld is one of the few that has had success in implementing a subscription model for theatre-goers, and it's done this by keeping subscriptions within the ecosystem of theatres that it owns. Others have run aground while attempting to introduce subscription models, with early frontrunner U.S.-based MoviePass shutting down in September.
Mark Slone, president of Pacific Northwest Pictures, told Playback Daily the introduction of a subscription model for cinemas would represent "the most dynamic pricing change ever to have happened in Canada," though exactly how it will involve and impact Canadian distribution companies remains unclear. "We understand the consumer-facing side of the model, but we don't know what the revenue-share piece looks like and what the terms will look like from the business side," he said.
In addition to questions about the Unlimited programme, industry watchers have suggested the deal should be subject to something akin to a tangible benefits package. Exactly what that would look like also remains unclear, but there is precedent for a benefits package after Cineplex was forced to sell 27 of its theatres in order to satisfy anti-trust concerns associated with its 2005 acquisition of Famous Players.
"The logical and simplest way to ensure that Canadian films aren't put on the hind foot due to an incoming foreign control of so many screens would be to create some sort of benefits framework," said Slone.
Meanwhile, Vince Guzzo, head of Quebec's Cinema Guzzo, said he takes no issue with the proposed transaction. Cinema Guzzo is the main competitor to Cineplex in Quebec and operates 141 screens in the province. "What I think should be the case is the Canadian government should have a look at the whole industry to make sure that nobody is trying to influence admission prices upwards when the consumer isn't looking for that," he said.
The takeover also raises a number of important questions for the Canadian film industry as it struggles to garner screen time in a theatrical landscape increasingly dominated by mega-budget Hollywood fare.
Cineworld on Monday said the deal will create "a new partner for the Canadian film industry to collaborate with, as Cineworld Group has extensive distribution and exhibition businesses outside of Canada."
The news was cautiously welcomed by some sections of the domestic industry. "Canadian filmmakers, like independent filmmakers around the world, struggle to compete for screen time with studio fare and we're excited to see how Cineworld will address this important cultural imperative," said the Academy of Canadian Cinema & Television in a statement issued to Playback Daily.
Producer Tyler Levine (Carousel Pictures), whose feature Trench 11 had a two-week run in Cineplex theatres across the country in 2017, also feels the deal has the potential to benefit the independent film sector in Canada. "From what I've heard, Cineworld Group have always recognized the value of local cinema whether it's in Ireland, Israel, the U.S., U.K., or any of the 10 countries they currently operate in," he said.
"As both a Canadian independent feature film producer and as an avid moviegoer, I'm excited about how Cineworld's acquisition of Cineplex may breathe new life into the experience of watching film on the big screen in Canada," added Levine.
Cineplex shares climbed to nearly $34 per share on Monday as word of the proposed acquisition filtered through. However, some reports have suggested that the deal – which includes a seven-week "go-shop period" in which Cineplex can actively solicit and enter negotiations with other potential buyers – may not be set in stone and another buyer could enter the fray. While this scenario is unlikely, it adds an interesting wrinkle to a deal that could have a dramatic impact on the Canadian film industry in the years ahead.
Moving ahead, Slone says what's needed is reassurance that Cineworld or another buyer will put Canadian considerations on its priorities list.
"Ultimately it's looking for a pledge from the new owners that the responsible behaviour Cineplex has shown in its home market will continue," said Slone.