Name the factors behind Family Feud Canada
Executives at CBC and Fremantle discuss why the English-language adaptation made sense for the pubcaster.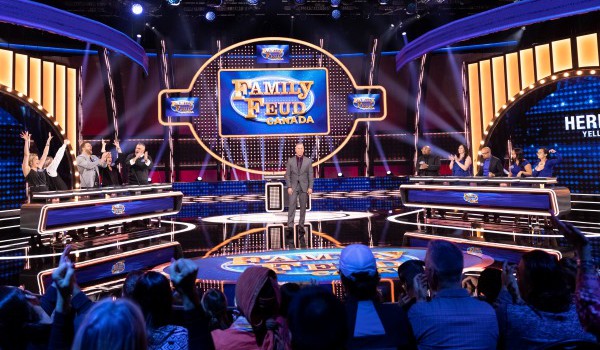 Over the course of many conversations between Fremantle and CBC, one thing kept coming up: the idea of bringing Family Feud to CBC, Jennifer Dettman admits.
Hitting buttons like being a fit for the schedule, sponsor-friendly and easily Canadianized, the CBC executive director, unscripted content told Playback Daily alongside general manager, programming Sally Catto and Fremantle's Michela Di Mondo, SVP distribution & sales, International, territory head of Canada – that the time for a Canadian English-language adaptation felt right.
"It's a successful international format – it's in 72 international territories now, and we thought it was a show that could really showcase Canadian families in an entertaining way," Dettman says referring to Family Feud Canada. Indeed, the U.S. version won its first Emmy in 1977 and it's last in 2019, and appears almost every list of top game shows of all time.
Produced by Montreal's Zone3 in association with the pubcaster, this 60 episode by 30-minute adaptation, hosted by homegrown comedian Gerry Dee (Mr. D), started airing this week at 8 p.m. After tonight (Dec. 19), the TV show showcasing two families as they compete to try to name the most popular answers to survey questions will move into its regular slot at 7:30 p.m. running four days a week from Monday to Thursday.
CBC and Zone3 had also been in years-long discussions about an English-language adaptation of the format. "They understand the format and so they were the natural choice for us to go to," Dettman notes, pointing to how the company previously produced a Quebec version of Feud, La guerre des clans.
Speaking to Playback Daily ahead of the show's much-anticipated launch, Catto acknowledged that although Family Feud Canada has seen some criticism, the team behind the show has seen a greater number of people excited for the adaptation. Notably, roughly 10,000 Canadians have reached out to be part of the live studio audience, while 1,700 families have applied to be on the program, with even more expected to submit following Family Feud Canada's premiere, adds Dettman.
"The reality is, we are a hybrid public broadcaster," Catto says. "We have wonderful government funding and we also need to generate revenue."
Currently, game shows are not classified as a CMF-supported genre of programming. When asked about the financing model for the series, Dettman noted that some of the CBC's show have CMF financing, while others do not, and that receiving this financing was not a concern when trying to bring Family Feud Canada together.
However, the adaptation made sense for the CBC now for a plethora of reasons, say the trio.
"One of the factors is that we really looked at the schedule and wanted to find something that we could cement as the lead in to prime," Catto says, referencing how lead-in programming on linear is still important, and how it can attract some follow-through audience. "We know our current audience will love Feud, we believe, but we also believe that we're going to bring in new audience members who may not have watched CBC before."
And then there's the sponsorship side of the equation – a key element of the show executives highlighted at the pubcaster's 2019/20 Upfront.
As of launch time, Family Feud Canada has two sponsors: Hasbro and Ancestry.
A CBC spokesperson confirmed to Playback Daily that Hasbro's partnership on the show includes offering a board game gift pack as a consolation prize for families who don't get a chance to play fast money, while Ancestry's relationship includes "media, various integrations into episodes during the winter and custom content which will include families from the series showcasing how Ancestry is connecting them to their own family history."
"We have many, many more shows to tape and so we are still actively looking for other partners that would be a fit for the show and the brand and we're hopeful that we'll be able to have more by the end of the season," Dettman says.
Another thread for Family Feud Canada that was equally important for CBC and Fremantle was putting together a show that celebrates Canadian families from all over, explains Dettman and Di Mondo. Referencing Family Feud's success as a format with over 30,000 episodes, Di Mondo says when it comes to approaching a local version of Feud, she likes to see how an adaptation shows a point of difference, something she says she's noticed with Family Feud Canada's questions.
Looking at the CBC's programming strategy, commissioning Family Feud Canada doesn't mean a larger push to get game shows on the air, Catto says. "We just really found a gem that we've long-eyed."
Zone3′s Jeffrey Wraight serves as showrunner and executive producer on Family Feud Canada, while CBC's Tracie Tighe is co-executive producer. Fremantle distributes the series globally.
Image courtesy of CBC