2019 Showrunner of the Year: Dan Levy
The man behind Canada's homegrown cultural phenomenon Schitt's Creek topped a life-changing year with a surprise Emmy nomination and a major studio deal.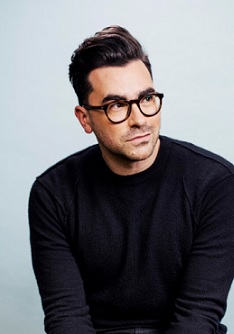 Schitt's Creek lived out a Cinderella story this year as it transformed from Canadian comedy hit on CBC to a global phenomenon.
The success led the series all the way to a glamourous night at the Emmy awards, where it was up for four nominations, including best comedy. Even when Phoebe Waller-Bridge effectively dominated the category with her fourth wall-breaking hit Fleabag, there were no hard feelings, according to Schitt's Creek co-creator, star and showrunner Dan Levy (pictured, left).
The series held a lot of firsts for Levy. Not only was it his first time showrunning, it was the first time he had penned or directed an episode of scripted television. He co-created the series with his father Eugene and produced it through their banner Not A Real Company Productions.
The multihyphenate talent has also been at the centre of the cultural conversation around the series, championing the show as a safe space for its LGBTQ characters. Levy was a vocal part of the Emmy campaign, but his goal had more to do with attracting viewers than landing a nomination. "I don't think it's in me to expect anything like that," he says. "It came as a huge surprise to all of us."
The nomination came after the cast and crew had wrapped Schitt's Creek's sixth and final season, set to air on CBC and U.S. broadcaster Pop TV in January 2020. Fans worldwide decried the decision, which Levy admits wasn't the smartest choice business-wise, but was right for the show, not wanting to push it "past its expiry date." In fact, he's thankful that much of the global praise has come after the bulk of the show was completed.
"We were able to make this show without feeling the weight of expectation, other than my own or my dad's," he says, adding that those expectations were already high enough.
Levy went on to accept an award not long after the Emmys, receiving GLAAD's Davidson/Valentini Award for his contributions to promoting LGBTQ acceptance in the media. Levy said the honour reminded him of how far he's come from "10th grade, when I was still in the closet and didn't know what I wanted to do with my life," to now, a point at which he feels "everything I do from here on out has to have meaning to it."
The series has left an indelible mark on Canada's TV landscape, opening doors for series like Workin' Moms and Kim's Convenience. "When we commissioned Schitt's Creek, we were looking to shift our comedy strategy to more single camera, auteur-driven comedies," says Sally Catto, GM, programming, at CBC. "We've been able to really build a strong reputation for comedy in this country, and Schitt's Creek is obviously a huge, huge part of that."
It's also put the younger Levy on the global map as a sought-after creative talent. Levy took several meetings before signing an overall deal with ABC Studios in September to develop and produce scripted content. "We were really aligned in terms of what they wanted from me and what I wanted to make, and giving me the time and space to make them," he says.
It's akin to the creative synergy when he originally pitched Schitt's Creek to CBC. Catto says the pubcaster was impressed with Levy from the beginning, giving him plenty of freedom to create his vision. "It became apparent very quickly that he had excellent judgment and really exceptional creative taste," she says.
Levy recognizes the "rare opportunity" he's had with CBC and Pop TV in terms of his creative freedom, and the chance he's had to work on all aspects of the show. "The commitment to the job, the sheer volume of work has changed my life," he says.
Levy had a wider responsibility than most, juggling acting and directing duties with the oversight of every department. "You try your best to delegate responsibilities, but it really comes down to you, because you're the only one that knows the totality of what it all means," he says, adding that the level of responsibility has prepared him for anything. "Schitt's Creek will always be the greatest classroom that I have ever been in."
While the much-touted greener pastures call, Levy says he won't count out coming back. "I will always go where the quality work is," he says. "Canada is bursting with potential in all departments. Schitt's Creek is an unbelievable example of what Canadians can do."
This story originally appeared in the Winter 2019 issue of Playback magazine