Deals: Blue Ant, WaZabi, Super Channel
Blue Ant International sells CBC Gem original Detention Adventure into the U.K., Sophie Deraspe's Antigone lines up U.S. distribution, plus more.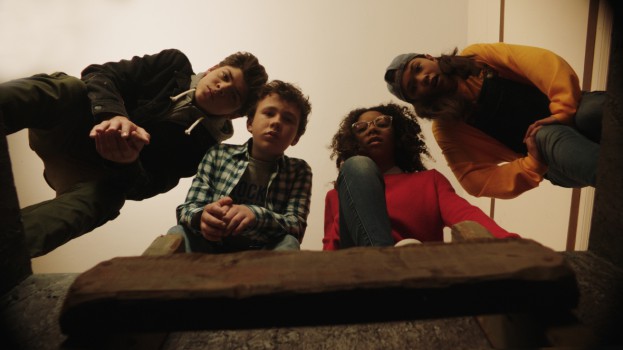 Blue Ant International
Blue Ant International has licensed digital scripted series Detention Adventure (10 x 11 minutes) to the U.K.'s ITV and ABC Australia. The series, produced by LoCo Motion Pictures and Broken Compass Films, was the first original kids scripted series to debut on CBC Gem following its rebrand and relaunch a year ago. In the U.K., the show debuted earlier this week on CITV, a free-to-air children's TV channel operated by ITV. Meanwhile, in Australia, Detention Adventure launched earlier in the year on the main ABC channel. The show is produced by Broken Compass' Ryan West and executive produced by Lauren Corber, Karen Moore, Carmen Albano and Joe Kicak, who also directs. The series, about a group of kids who deliberately get in trouble so they can search the detention room for the hidden entrance to a secret lab, is distributed globally by Blue Ant International.
WaZabi Films
L.A. based Cinema Libre Studios has acquired the U.S. distribution rights to writer/director Sophie Deraspe's Antigone. WaZabi Films, which distributes the film internationally, also announced it has secured deals with Lucky Red (Italy), Ligne 7 (France and Belgium), Nachson Films (Israel), Cinemas Nueva Era (Mexico) and Green Narae Media (South Korea). Details of the rollout in each country have not yet been announced. The film has been on a hot streak since its world premiere at TIFF, where it won the prize for best Canadian film. Since then it was selected as Canada's entry for the Best International Feature Film category at the 2020 Academy Awards, and last weekend won a raft of prizes at Whistler Film Festival including best Canadian feature, best director and best screenplay. In addition, it has screened at Rome International Film Festival, Busan IFF, Los Cabos IFF, Black Nights Film Festival in Estonia. WaZabi Films co-president Anick Poirier negotiated the deal with Cinema Libre.
Super Channel
Super Channel has acquired the Canadian rights to the four-part U.K. miniseries The Accident. The Channel 4 thriller will make its Canadian broadcast premiere on Thursday, Jan. 16 at 9 p.m. Toplined by Sarah Lancashire and Mark Lewis Jones, the project tells the story of a Welsh community devastated by an explosion at a local construction. The series will debuted on Super Channel's main station, SC Fuse. It is distributed globally by all3media International and streams on Hulu in the U.S.