CBC Gem series Hey Lady! to world premiere at Sundance
The digital series, co-directed by Sarah Polley, is among several Canadian shorts to join the lineup, including titles from Santiago Menghini and Charlie Tyrell.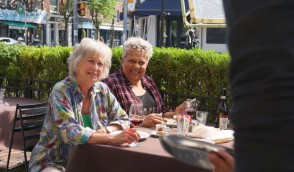 CBC Gem comedy Hey Lady! will have its world premiere at the Sundance Film Festival, joined by a number of Canadian narrative, animated and documentary shorts.
Seven Canadian short and episodic projects were chosen among the 74 total to screen at the Park City, Utah festival, which received 10,397 submissions this year, including 5,405 internationally. Among the 74 projects, 48% are directed or created by women. A select number of projects will be part of Sundance's traveling short film program, which screens shorts at 75 theatres in Canada, the U.S. and Europe.
Hey Lady! (pictured) is written and created by Morris Panych and directed by Sarah Polley, Adriana Maggs and Will Bowes. Jessica Jennings of Toronto-based prodco TJ Content is a producer, with Panych, Polley, Tara Ellis and John Buchan serving as executive producers. It stars Jayne Eastwood as a "spiteful, boozy and blunt" 75-year-old woman who gets into absurd public antics.
Also having its world premiere is the narrative short film Regret, written and directed by Santiago Menghini. It follows a man who has to face the physical manifestations of his inner demons after the death of his father. Menghini's previous short horror film Milk was picked up by U.S. prodco New Line Cinema to be adapted to a feature film, directed by The Conjuring 2's James Wan.
Alexandre Dostie's short I'll End Up in Jail will have its U.S. premiere at the festival. The short, which had its world premiere at the Toronto International Film Festival (TIFF), depicts a murderous car crash where no one involved wants to take the blame.
Three documentary shorts will appear at the fest, including Lisa Jackson's Lichen. The short, which will have its international premiere at Sundance, gives a deep dive look into the ancient organism that continues to confuse scientists as it thrives in adversity.
Charlie Tyrell is making a return to Sundance following the 2017 premiere of his short My Dead Dad's Porno Tapes with his Canada/U.S. copro short Broken Orchestra, which shows a Philadelphia music program where broken instruments from the public school system are fixed and given to students. Also among the doc shorts is the NFB's Now is the Time, written and directed by Christopher Auchter. It looks at the 50th anniversary of the first totem pole raised on British Columbia archipelago Haida Gwaii in close to a century.
Rounding out the Canadian premieres is Thea Hollatz' animated short Hot Flash, which will have its international premiere at Sundance. The short follows a woman who is suffering a hot flash as she's about to appear live on local television. It had its world premiere at TIFF.
Sundance announced its 2020 feature lineup last week, with a number of Canadian feature-length copros in the roster. Among them is Falling, the directorial debut of Viggo Mortensen, coproduced by Scythia Films, and Brandon Cronenberg's Possessor, produced by Rhombus Media.
The Sundance Film Festival runs from Jan. 23 to Feb. 2, 2020.
Image courtesy of TJ Content