Awards roundup: from Whistler to Golden Globes
Sophie Deraspe makes history in Whistler, plus other nods from the TFCA, Critics' Choice Awards and the Golden Globes.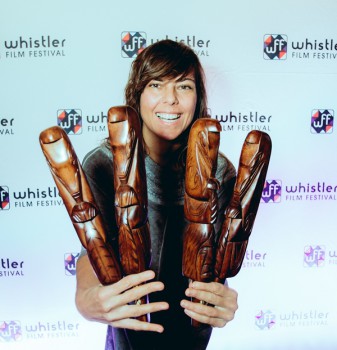 Canadian film and TV talent have earned major recognition from the Whistler Film Festival (WFF), the Toronto Film Critics Association (TFCA), the Critics' Choice TV Awards and the Golden Globes over the past few days.
On Sunday (Dec. 8) – the final day of the 19th edition of the WFF – Montreal-based writer/director Sophie Deraspe (pictured) walked away with best Canadian feature, best director and best screenplay for her feature Antigone.
She is the only filmmaker to have twice picked up the $30,000 cash and post-production prize in the best Canadian feature category, according to a press release from WFF. Prior to this, Deraspe, whose credits include A Gay Girl in Damascus: The Amina Profile (2015) and Les loups (2014), won the Borsos Competition for Best Canadian Feature from WFF in 2009 for her feature Les Signes Vitaux ("Vital Signs").
Produced by Marc Daigle and Isabelle Couture of Association Coopérative des Productions Audio-Visuelles, Antigone is a modern adaptation of Sophocles' Greek tragedy of the same name. The film was selected as Canada's Best International Feature Film pick for the 2020 Academy Awards by Telefilm Canada this fall.
Antigone's Nahéma Ricci also received the prize for Best Performance in a Borsos Competition Film Award, while Ella Ballentine earned an honourable mention for her performance in Nicole Dorsey's Black Conflux. Additionally, Best Cinematography in a Borsos Film went to cinematographer Celiana Cardenas for The Cuban, directed by Sergio Navaretta, which made its world premiere at WFF.
Documentary Once Were Brothers: Robbie Robertson and the Band from director Daniel Roher, which made history as the first Canadian documentary to serve as TIFF's Opening Night Gala Presentation, also earned the World Documentary Award. Director Rebecca Snow's Pandora's Box: Lifting the Lid on Menstruation also received an honourable mention it's "eye-opening examination of a challenging topic, societal significant, and social impact."
Additionally, the new Just Watch Us: Best BC Director Award, presented by the Directors Guild of Canada, British Columbia, went to Tony Dean Smith for Volition, which made its Canadian premiere at WFF.
The Women In The Director's Chairs (WIDC) annual Feature Film Award went to Acadian filmmaker Pamela Gallant for Monica's News, her feature-length drama directorial debut. The annual award is designed to encourage more feature films from Canadian women and gender minorities, offering an in-kind prize of up to $200,000 in services and rentals. Gallant joins past winners like Shelley Thompson, Gloria Ui Young Kim, Kathleen Hepburn, Marie Clements and Sonia Bonspille-Boileau.
This Sunday also saw the TFCA announce some of its 2019 award winners, notably, unveiling the three Canadian finalists for its Rogers Best Canadian Film Award. Deraspe's Antigone is up for the $100,000 prize alongside Jasmin Mozaffari's debut Firecrackers, which won Achievement in Directing at the Canadian Screen Awards, and The Body Remembers When the World Broke Open from Kathleen Hepburn and Elle-Máijá Tailfeathers.
The association also revealed the beneficiary of the 2019 Technicolor Clyde Gilmour Award. This year's prize winner Michele Maheux, former TIFF executive director and COO, selected Colombian-Canadian filmmaker Lina Rodriguez as the recipient of the award's $50,000 in services from Technicolor Creative Services. Elsewhere, the Stella Artois Jay Scott Prize for an Emerging Artist will be announced at a later date, walking away with a $10,000 award at the TFCA's annual gala, which will be hosted by TIFF artistic director and co-head Cameron Bailey.
Other winners feted by the TFCA include: Parasite from Bong Joon-Ho, which won Best Picture, Best Director and Best Foreign Film; The Irishman from Martin Scorsese, which walked away with Best Screenplay; Booksmart from director Olivia Wilde, which was crowned Best First Feature; American Factory, which won the association's Allan King Documentary Film Award; and Missing Link, winner of the group's Best Animated Feature. Adam Driver and Lupita Nyong'o both walked away with best actor and actress for Marriage Story and Us, respectively. Members also chose Laura Dern as the winner of Best Supporting Actress for Marriage Story, while Brad Pitt won Best Supporting Actor for Once Upon a Time in Hollywood.
On the TV side, Canadian comedy Schitt's Creek received its second Best Comedy Series nomination from the Critics' Choice Awards. Last year, the series earned a nod against Atlanta, Barry, The Good Place, The Middle, The Marvelous Mrs. Maisel, The Kominsky Method and One Day at a Time.
Going into the 25th edition of the awards, the hit comedy series, which airs on POP TV in the U.S. and CBC in Canada, is up for five prizes. Eugene Levy and Catherine O'Hara both secured nominations in the best actor and actress in a comedy series, while co-creator and showrunner Dan Levy is in the best supporting actor in a comedy series section and star Annie Murphy is up for best supporting actress in a comedy series section.
And as of this morning, Joker, which sees Bron Creative's Aaron L. Gilbert and Jason Cloth serve as executive producers via a $100-million, six-picture co-financing deal with Warner Bros. Pictures, picked up four Golden Globe nods. The featuring starring Joaquin Phoenix is up for Best Motion Picture – Drama, Best Actor in a Motion Picture – Drama for Phoenix, Best Director – Motion Picture for director Todd Phillips and Best Original Score – Motion Picture. Bombshell, another Bron production, also saw Charlize Theron receive a nomination for Best Performance by an Actress in a Motion Picture – Drama, while Margot Robbie earned a nomination in Best Performance by an Actress in a Supporting Role in Any Motion Picture.
Bron is also involved with The Morning Show (AppleTV+) via its Media Res venture. The series is up for Best Television Series – Drama, with Jennifer Aniston and Reese Witherspoon tied for Best Performance by an Actress in a Television Series – Drama.
Image of Deraspe courtesy of WFF