In brief: VFF looks to 2020 with new lead programmer
Plus: The Song of Names lands an original score nomination, a Toronto creative design firm brings in an L.A. exec and the NFB boosts its Montreal team.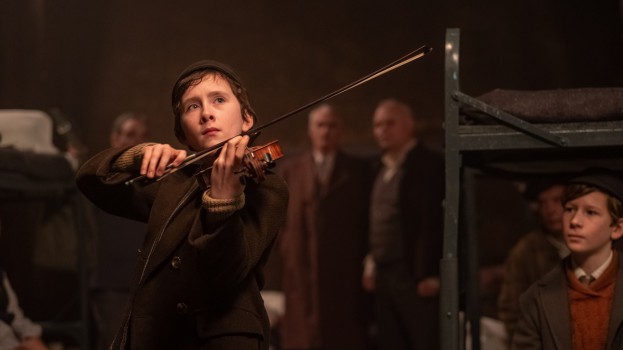 Victoria Film Festival names new head programmer
The Victoria Film Festival (VFF) has tapped Kinga Binkowska as its new head programmer for the festival's 26th year as it introduces new programming themes for 2020. Binkowska first joined the VFF programming team in 2017 before taking the helm in 2019 under festival director Kathy Kay. She has previously worked at the Zurich Film Festival and in Stratford, ON, at the Queen of the Square arthouse cinema.
The festival will launch three new programs: LAUNCH, which features new filmmakers, FIRST, a spotlight on Indigenous films and FOMO, featuring more mainstream films. The 2020 festival will take place from Feb. 7 to 16.
The Song of Names score up for SCL award
The score for The Song of Names (pictured), composed by Howard Shore, has been nominated for the first Society of Composers & Lyricists (SCL) Film and Television Awards. Shore, the composer behind some of the most recognized scores in film history including The Lord of the Rings trilogy, is nominated in the category for Outstanding Original Score for an independent film. The $22-million Canada/Hungary copro, produced by Serendipity Point, Lyla Films and Budapest-based Proton Cinema, made its world premiere at TIFF '19. Distributed in Canada by Elevation Pictures, the film opens in theatres on Dec. 25. The inaugural annual SCL Awards takes place on Jan. 7, 2020 at the Skirball Cultural Centre in Los Angeles. The SCL previously only handed out lifetime achievement awards.
FORREC taps David Kenneth for its team
Toronto-based entertainment design company FORREC has hired Innovate Entertainment CEO and executive producer David Kenneth for its team. Based in L.A., his new role as executive producer for the Toronto company expands its presence in the market. Additionally, as an executive producer Kenneth will lead the continued development of FORREC's media production, live-action, CG and VFX offerings. His position also includes creative and technical direction as well as management of the production studio. His past visual effects work spans projects like Spider-Man 2 and Drag Me to Hell. He also worked on productions like Harry Potter and the Deathly Hallows: Part 2 and Green Lantern. Kenneth was also nominated for an Emmy Award in graphic design and art direction for The Crumbling of America in 2010.
NFB adds to Montreal production team
Pierre-Mathieu Fortin has joined the National Film Board's (NFB) Montreal production team. Fortin, who begins the role on Jan. 6, previously served as the co-director of digital creation company BonGolem and is the former creative head of digital content at Radio-Canada. Fortin's doc credits include the Stephen Faulkner: J'm'en va r'viendre and the TV project Arène. He also partnered with the NFB in 2017 on its short-film series SMS.