Chained buckles down in B.C.
The psychological crime thriller from writer/director Titus Heckel has also secured broadcast deals with Super Channel and Hollywood Suite.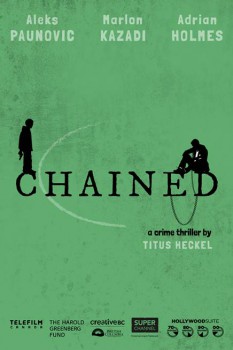 Vancouver-based writer/director Titus Heckel is in production on his sophomore feature film effort, Chained.
Produced by Rachelle Chartrand from My Precious Pictures and Chester Sit from Dynastic Entertainment, the feature focuses on a bullied 13-year-old who forges a friendship with Jim, a criminal chained inside an abandoned warehouse. With a budget of just over $1 million, the psychological crime thriller stars Aleks Paunovic (Van Helsing), Marlon Kazadi (Child's Play) and Adrian Holmes (19-2) and sees TriStar Global Entertainment's Michael Olsen serves as an executive producer. The film was penned by Heckel, who previously wrote and directed the film With Child in 2014.
Shooting, which is currently underway in Kelowna, B.C., is expected to wrap later this month. Following that, producer and former Women in Film & Television Vancouver president Chartrand told Playback Daily that the team plans to have the thriller ready to hit the festival circuit in late spring 2020. The project has also secured a first window broadcast deal with Super Channel and a second window deal with Hollywood Suite. She also confirmed that the team is currently in discussions with Canadian distributors and international sales agents.
Last year, Chartrand was selected to take part in the Whistler Film Festival's Producers Lab with Chained. The screenplay was also a semi-finalist for the 2018 Nicholl Fellowship in Screenwriting from the Academy of Motion Picture Arts and Sciences, according to a press release.
The thriller also received development funding from the Harold Greenberg Fund as well as assistance from Creative BC and Telefilm Canada.