Food Network Canada sets dinner time for Wall of Chefs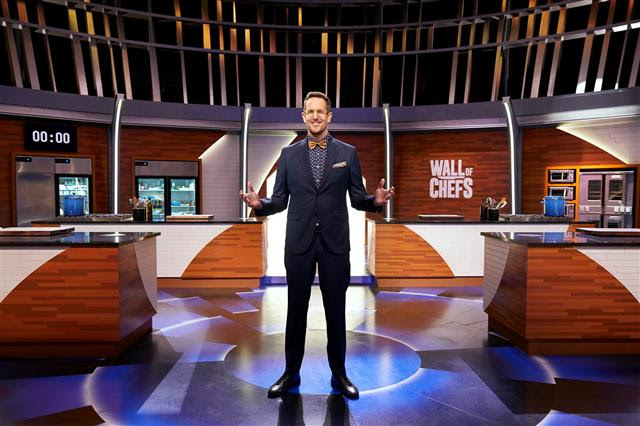 The series from Insight Productions and Corus Studios sees four cooks test their skills under the watch of a revolving panel of notable Canadian chefs.
Corus' Food Network Canada has lined up culinary series Wall of Chefs (10 x 60 minutes) to debut this February.
Set to premiere on Feb. 3 at 10 p.m. ET, the series, produced by Toronto's Insight Productions in association with Corus Studios, sees four home cooks test their skills as they compete under the watch of "The Wall," a revolving panel of 12 notable Canadian chefs.
Hosted by Carnival Eats' Noah Cappe, each episode will see these participants battle their way through three rounds, culminating with a winner walking away with a $10,000 prize. Some of the 33 rotating chefs set to judge for the show include: Susur Lee, Lynn Crawford, Meeru Dhalwala, Christie Peters, Shane Chartrand, Fisun Ercan, Renée Lavallée, and more.
In a statement, Corus Entertainment VP of original content Lisa Godfrey said the company believes Wall of Chefs "will garner mass appeal on an international scale," noting that the series also marks the first time that the country's biggest culinary leaders will be featured in one colossal series for the network. Insight's John Brunton, Mark Lysakowski and Eric Abboud all serve as executive producers, while Erica Lenczner is the show's series producer.
Additionally, Food Network Canada's Foodnetwork.ca will offer exclusive content for the series such as a closer look at Wall of Chef's cast of judges. Full episodes will also be available online following their broadcast on the culinary channel.
Wall of Chefs was officially unveiled by Corus this May alongside new series like The Big Bake (18 x 60 minutes) and Chocolate Masters (8 x 60 minutes) from Architect Films.
This story originally appeared in Realscreen