Doug Murphy calls for urgency, parity, flexibility in acts review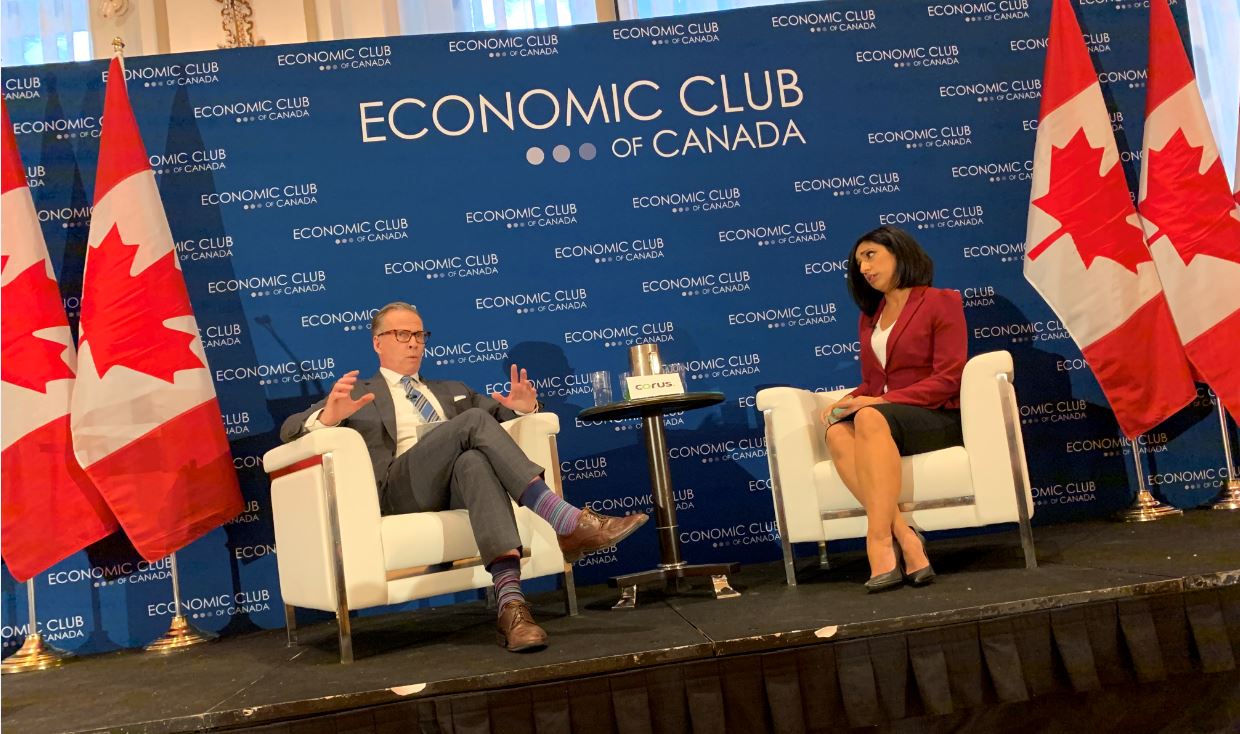 The Corus head argued that Canadian broadcasters need additional flexibility to grow international revenue streams as ad and subscription revenues decline.
It isn't common for Canadian broadcast heads to address the Economic Club of Canada on the future of domestic media. But these are defining times, says Doug Murphy, and the broadcasting sector must make its voice heard now — or risk being overlooked in a legislative review that has become a matter of survival.
The Corus Entertainment president and CEO is spearheading an initiative to put the industry's concerns on the radar of both the new minority Liberal government and newly appointed Minister of Canadian Heritage Steven Guilbeault.
In his address on Monday at the Fairmont Royal York in Toronto, Murphy urged both Ottawa and Guilbeault to focus on three areas – urgency, flexibility and creating a level playing field – as the legislative review enters its next phase in January, when the Broadcasting and Telecommunications Legislative Review (BTLR) panel delivers its long-awaited recommendations report.
The time for discussion and examination is over – now is the time to act, he says. "We do not need another study. We've had three studies over the last five years – let's be urgent about our decision making," he told attendees of the event at the Royal York.
Like many, Corus is calling for international digital platforms to be subject to the same regulation as domestic players. And with all political parties seemingly aligned on the notion that digital platforms should pay into the system, Murphy believes action could be swift – provided there is political will to introduce updated legislation.
A potential wrench was thrown into the works when a new Minister of Canadian Heritage was named last week. But while former Minister Pablo Rodriguez had been considered a strong ally of the domestic industry, Murphy doesn't believe the switch will scupper any of the changes he seemed poised to introduce.
"Conceptually, having Minister Rodriguez still there would be giving more comfort that we're going to be on a path that he started. On the flip side, what I can tell from Steven Guilbeault is that he's bright, and highly regarded by the PMO, so in theory he'll want to put his hands on the wheel pretty quickly," Murphy told Playback Daily following the address. He added that Corus' senior team, like many in the industry, have built solid relationships with Heritage senior staffers over the past few years, and are confident they understand the portfolio and challenges faced by domestic film and TV companies.
Outside of how international entities are regulated, Murphy also says the updated Broadcasting Act must give domestic broadcasters significantly more flexibility in order to grow their businesses at home and in international markets.
Corus, like all large broadcast groups in Canada, is mandated to spend 30% of its revenues on Canadian production (CPE). Within that, its spend on Programs of National Interest (PNI), which includes documentary, animation and drama, is set at 8.5%.
In order to build a more sustainable business that can tap into international demand, Murphy says these regulations must be loosened so that broadcasters can invest resources in areas of their choosing.
"Let us make the investments in the shows we want to make in the ways we want to make them. Let the creativity be applied to the business as much as to the script, or casting, or the production value," he said.
Currently around 95% of Corus' revenue is generated domestically, according to Murphy. And though Corus is coming off a strong financial year, he said he believes Canadian broadcasters must be given the tools to build their international revenue streams as the erosion of domestic advertising and subscription revenues continues.
"The 5% or 6% of revenue that comes from international content needs to be closer to 25% to have more of a stable core business in Canada. The subscriber and ad revenue is going to decrease, so let me grow that business."