Big Bad Boo expands 16 Hudson's world
The short-form spin-off ABC with Kenny G is produced in partnership with TVOKids and Knowledge Kids.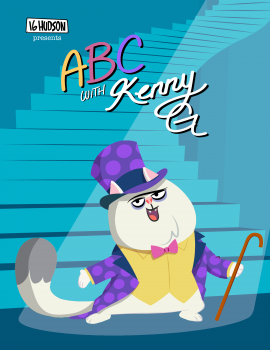 16 Hudson's universe is about to get a bit bigger. Vancouver and New York-based Big Bad Boo Studios has greenlit ABC with Kenny G, a 30-episode spin-off series of the animated preschool show.
Produced in partnership with TVOKids and Knowledge Kids, the short-form series will see each episode focus on a different letter of the alphabet – following grumpy Kensington (or Kenny G), Lili's cat on 16 Hudson, as he sings some late night ABC tunes at the "milk and cookies" jazz club with a cast of characters.
16 Hudson creator and Big Bad Boo Studios' co-founder and president Shabnam Rezaei also serves as creator, executive producer and director on the series. TVO's Marney Malabar is EP along with Aly jetha and Shabnam Rezaei. Paddy Gillen, VP of production at Big Bad Boo will be line producer on the series with Eddie Soriano as animation director. ABC with Kenny G will also feature music from Toronto-based musician Matt Davis, who  worked on the music for 16 Hudson.
The spin-off will launch in 2020 in Canada with 16 Hudson partners TVOKids and Knowledge Kids, while ABC with Kenny G makes it debut on Big Bad Boo's SVOD Oznoz in the U.S.
Earlier this year, 16 Hudson – which tracks the adventures of a group of multicultural neighbours who live in a big city building – was renewed for a second season (39 x 7 minutes) and given the go-ahead for several accompanying digital media components.
According to Big Bad Boo, the show is the first of its kind to feature main characters from diverse backgrounds, as well as a character with two fathers. It was nominated for the Mipcom DiversifyTV Excellence Award for representing LGTBQ in 2018. Partners on the series include TVOKids, Knowledge Kids, CBC Radio-Canada, ICI TV and The Shaw Rocket Fund.
Additionally, this news follows Big Bad Boo's partnership with Highlights for Children. Unveiled in October, the pact will see the two develop, finance, produce and distribute animated shows inspired by its most popular brands like Top Secret Adventures Book Club.