In brief: DGC partners with NSI on Indigenous training programs
Plus, documentaries like Carmine Street Guitars make it on the Academy Awards Best Feature submission list.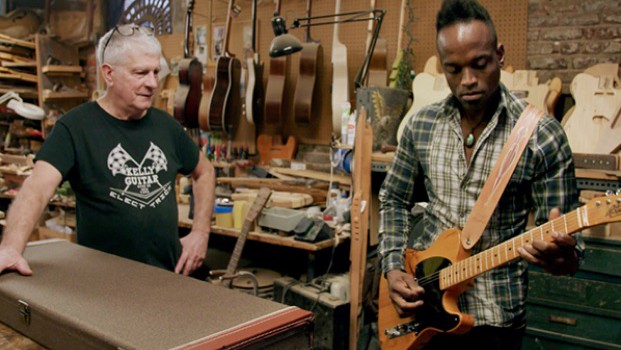 DGC becomes NSI Indigenous training program partner
The Directors Guild of Canada (DGC) has entered into a three-year pact with the National Screen Institute – Canada (NSI) as an Indigenous training program partner. This partnership will see the organization support the delivery of various training programs from the not-for-profit like the newly launched NSI New Northern Voices initiative, NSI IndigiDocs and CBC New Indigenous Voices, as well as boot camp sessions from DGC members. Most recently, the two teamed up for the $500 Directors Guild of Canada Award for best director for the NSI's Online Short Film Festival.
Four Canadian projects on Oscar Best Feature long-list
Four Canadian documentaries are in contention for the Documentary Feature category at the 92nd Academy Awards. Director Ron Mann's Carmine Street Guitars (pictured); Barry Avrich's Prosecuting Evil: The Extraordinary World of Ben Ferencz; Rachel Leah Jones and Philippe Bellaiche's Advocate (Canada/Israel/Switzerland); and Garry Keane and Andrew McConnell's Gaza (Canada/Ireland/Germany) are among the 159 projects on the submission long-list.
Produced by Sphinx Productions, Carmine Street Guitars world premiered out of competition at the Venice International Film Festival last year, while Avrich's Prosecuting Evil made its world debut as part of the TIFF Docs section. Advocate and Gaza also made their world premieres at Sundance, prior to their Canadian debuts at Hot Docs 2019.
Next month, a shortlist comprised of 15 films will be announced. In the Academy's notice about the section, it said that in order for some film's to move forward in the process they must make their required L.A. and New York releases. Additionally, films submitted in the Documentary Feature category may also qualify for other categories, like Best Picture.  Nominations for the Academy Awards will be announced on Jan. 13, 2020, with the ceremony set for Feb. 9, 2020.
Angie Power joins Route 504 PR
Toronto-based publicists Angie Power and Ally La Mere have joined forces under La Mere's Route 504 PR shingle, following co-representing films at TIFF 2019. Power is a veteran publicist with over 20 years of experience in the film industry. She has previously held senior publicity and promotion roles for Maple Pictures, Strut Entertainment and D Films.
At TIFF this year, the duo represented Canadian titles like Telefilm Canada Oscar pick Antigone, Matthew Rankin's The Twentieth Century, Nicole Dorsey's Black Conflux, and Kathleen Hepburn and Elle-Máijá Tailfeathers' The Body Remembers When the World Broke Open. Route 504 PR is responsible for publicity for Toronto-based distributor levelFILM and English Canada for Montreal-based distributor Maison 4:3.