MacLeod pledges stability for Ontario tax credits
The Minister of Heritage, Sport, Tourism and Culture Industries wrapped up a four-day visit to L.A. to meet with film and TV execs to promote Ontario's creative sector.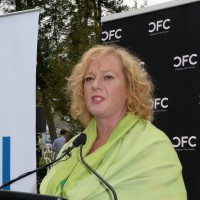 Minister of Heritage, Sport, Tourism and Culture Industries Lisa MacLeod (pictured) has committed to keep Ontario's tax credits stable, following a four-day mission in L.A. to meet with film, TV and music execs.
The purpose of the trip was for the provincial government to "promote and champion" Ontario's creative industries. MacLeod said the government "delivered a clear message that Ontario is open for business and that our tax credits will remain stable," in a statement.
MacLeod met with executives from Apple TV+, Universal, Netflix, Disney, NBC and Freemantle, and was joined by film and TV stakeholders such as Canadian Film Centre (CFC) CEO Slawko Klymkiw and Motion Pictures Association – Canada president Wendy Noss.
The CFC hosted a roundtable between MacLeod and film and TV leaders during the L.A. visit to "open the lines of communications between Ontario and L.A.'s film and TV businesses," according to Klymkiw.
Foreign language and service (FLS) production spend in Ontario hit $910 million in the 2017/18, up 3.2% from the previous fiscal year, according to the most recent CMPA Profile report. However, the number of new U.S. productions has stayed largely consistent, with the province taking on 10 new TV projects in 2018/19, the same as the previous two years, according to a report from FilmLA. A total of 15 U.S. productions were shot in Ontario in the last fiscal year, with 37 filmed in B.C., where the majority of FLS productions are filmed in Canada.
The provincial government announced plans to review the current tax credits administered by Canada Revenue and Ontario Creates when the Ontario budget was tabled in April 2019. While no timeline was given for the review, the budget included a plan to "streamline administration and reduce application processing times."
The tax credits considered under the government's cultural umbrella include the Ontario Film and Television Tax Credit, the Ontario Production Services Tax Credit, the Ontario Computer Animation and Special Effects Tax Credit, the Ontario Interactive Digital Media Tax Credit and the Ontario Book Publishing Tax Credit.
The budget also mentioned a plan to create a film and TV advisory panel to track trends and growth opportunities for the industry, and will report to MacLeod and Minister of Finance Rod Phillips.
Image courtesy of the CFC