Additional Hamilton studio space to open in summer 2020
Aeon Studio Group is set to bring 100,000 square feet of new studio space online by summer, as it moves forward with separate plans for a massive, 20-acre film campus.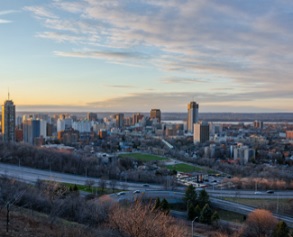 Five months after Aeon Studio Group revealed long-term plans to build a massive film campus in Hamilton, developers have confirmed that short-term relief is also coming to the city.
Around 100,000 square feet of additional retro-fitted studio space will open by summer 2020, which will go some way toward meeting sky-high demand.
Aeon Studio Group's Jeff Anders told Playback Daily that, since the announcement went out in June, his phone hasn't stopped ringing with domestic and international producers looking for shooting space as quickly as possible.
"They're asking if we can be ready in January. 'Unfortunately not,' I tell them, but we're sprinting for summer," he said.
While Hamilton has always been a popular shooting location, there has been a surge in filming activity in recent years, driven partly by Academy Award-winner The Shape of Water, The Handmaid's Tale and Umbrella Academy.
According to the City of Hamilton, the number of film permits issued annually held steadily in the 500 range from 2014 to 2017. That spiked to 800 in 2018, and is projected to grow further still in 2019.
The influx of domestic and international projects has helped drive an overall production spend of more than $60 million in 2018, according to the City, with its film workforce growing to around 9,100.
Now, Anders says the goal is to continue building out Hamilton's crew capacity as it gears up for the construction of the enormous, 500,000 square-foot, 20-acre Hamilton Studio District. The "live-work-play" development will consist of a film and TV production campus, with purpose-built soundstages, production offices, support facilities and a backlot, as well as studios for post-production, animation, visual effects, game development and music.
If all goes to plan, the campus, which will be situated at the intersection of Barton Street West and Tiffany Street, could be operational within the next two or three years. Geotechnical testing on the soil upon which the campus will be built is currently underway.
A number of the initiative's stakeholders are working with the City and local colleges and trade schools to expand the workforce. "How do we build a pipeline of film and TV industry talent that starts in high school, for example, and runs through college into union membership? That's a long-term play," he said. In the immediate term, stakeholders are also looking to bolster the workforce by creating more awareness of industries and skillsets that cross over into film and television. "Many don't realize the industry draws on every skill set in the economy – and Hamilton is chock full of experience industrial talent," he said.
The lack of shooting space in Toronto has been a contributing factor, added Anders, as producers look for any available studio space they can find, plus the added benefit of tapping into the regional tax credit incentive. As well, climbing real estate prices in Toronto have driven many artists toward more affordable cities such as Hamilton, which is now home to more than 900 businesses working in film.