LoCo expands digi slate with The Communist's Daughter
Created by Leah Cameron, the project is LoCo's fourth digital original for CBC after Detention Adventure, How to Buy a Baby and My 90-Year-Old Roommate.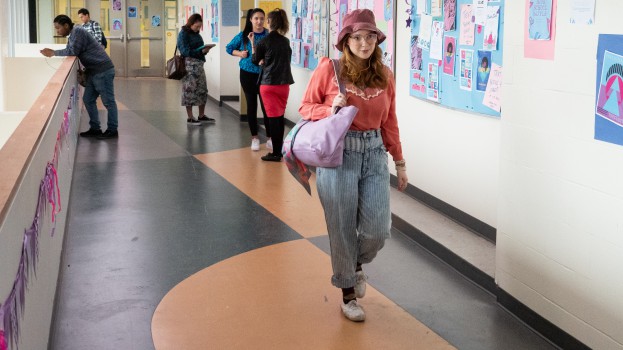 Following Detention Adventure, CBC Gem's first original kids' scripted series, Toronto prodco LoCo Motion Pictures is expanding its digital slate with The Communist's Daughter (8 x 10 – 13 minutes).
Created and directed by Leah Cameron, the original webseries follows 16-year-old Dunyasha McDougald (played by Sofia Banzhaf), the daughter of two happily married communists, as she tries to fit in at a new high school during the Reagan-era '80s. The series is produced by LoCo in association with Natalie Novak Films.
Production is currently underway on the show in the Greater Toronto Area, with Cameron, Josh Gal, Emer Connon, Julien Wagner and LoCo president and executive producer Lauren Corber all serving as executive producers. Corber's other digital credits include My 90-Year-Old Roommate (CBC) and How to Buy a Baby (CBC), the latter of which scored an International Emmy nomination in 2018.
Last year, Cameron and Natalie Novak, who serves as a producer on the series, picked up the CBC Comedy Originals Pitch Program prize for The Communist's Daughter at Just For Laughs ComedyPRO. Funders on the series include the IPF, Ontario Creates and CBC.
In addition to Banzhaf, The Communist's Daughter stars George Stroumboulopoulos, Aaron Poole, Jessica Holmes, Ryan Taerk, Nadine Bhabha, Kolton Stewart, Zoe Cleland, Vieslav Krystyan, Chris Locke, Neema Nazeri and Sandra Battaglini.