'Canada's coolest film fest' adds Hammer, Fall Back Down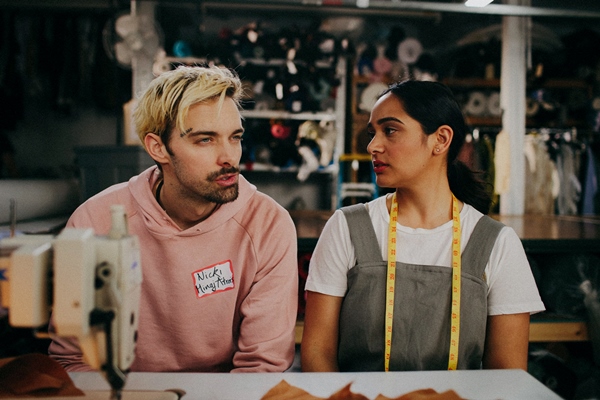 The Whistler Film Festival has selected features from Christian Sparkes, Sara Beth Edwards and others to make their world debut.
With the Whistler Film Festival around the corner, "Canada's coolest film fest" has added a number of Canadian world premieres to its lineup, including writer/director Christian Sparkes' Hammer and director Sara Beth Edwards' Fall Back Down.
Set to make its world debut as part of WFF's Canadian Vanguard program, Hammer follows an ex-convict (played by Mark O'Brien), whose plan to double-cross his drug-dealing partner (Ben Cotton) goes awry, leading him to seek out help from his dad (Will Patton). Jonathan Bronfman from JoBro Productions, Alison White, Woods Entertainment's William Woods and Chris Agoston serve as producers. Exec producers on the feature include Rhombus Media's Niv Fichman, Fraser Ash and Kevin Krikst.
Meanwhile, punk rom-com Fall Back Down (pictured) from Kiss Off Entertainment will screen in the New Voices lineup. Cameras rolled on the title, which follows a depressed ex-activist who takes a job in a sweatshop, last May. Rachelle Bencze and Andrew Dunbar serve as producers, while Ziad Touma (Incendies) and Chris Moore (Manchester By the Sea) are exec producers on the film.
The Cuban, penned by Alessandra Piccione and directed by Sergio Navarretta, will also make its world premiere at the festival. The film sees Lou Gossett Junior play Luis, a man suffering from Alzheimer's disease who comes out of his shell with the help of his new care worker Mina (Ana Golja). It was produced by Piccione, Navarretta, Golja and Taras Koltun.
Elsewhere, director Rebecca Snow's feature Pandora's Box: Lifting the Lid on Menstruation has joined the Doc Bloc section for its world debut. The documentary will screen alongside Michael Paszt's Nail in the Coffin: The Fall and Rise of Vampiro and TIFF opener Daniel Roher's Once Were Brothers: Robbie Robertson and The Band, which have also been added to the lineup.
Shorts making their world premieres at the Whistler festival include: In Loving Memory, from directors Mayumi Yoshida and Diana Bang; When I Grow Up, from directors Mark Milburn and Michael Decker; Call Me Crazy, from Andrea Wing; B-Side, from Alayna Silverberg; The Bear and the Beekeeper, from Kristina Mileska; The Station (Canada/U.S.), from Simon Mendes and Angus Borsos; Midnight Mail, from Ciaran Davis-McGregor; and The Party, from Gabriel Souza Nunes.
Marquise Lepage's Apapacho: A Caress For the Soul, Onur Karaman's Guilt ("Le Coupable") and copro The Kindness of Strangers will all make their Canadian premieres at WFF. Meanwhile, Western Canada debuts include Telefilm Canada Oscar contender Antigone, Nicole Dorsey's Black Conflux, Melanie Oates' Body and Bones and Sean Cisterna's From the Vine (Canada/Italy). Aisling Chin-Yee's feature film directorial debut The Rest of Us and James Vs. His Future Self from Jonas Chernick (My Awkward Sexual Adventure) and director Jeremy LaLonde (The Go-Getters) have also been tapped for their B.C. premieres at WFF. Director Lois Neu's Ski Legends will also make its world premiere as a double-bill with Steven Oritt's Accidental Climber (U.S., Canadian premiere).
WFF will also host the world premiere of the newly-restored The Grey Fox from Canadian filmmaker Phillip Borsos. The festival pays tribute to Borsos' legacy every year with the Borsos Competition for Best Canadian Feature.
Lost Transmissions (U.S.) from first-time director Katharine O'Brien serves as WFF's Opening Night film, making its Canadian premiere. The festival has also added the world premiere of Ivan Butler Bordas' Cabarete (Dominican Republic). A double bill of Grosso's Love Letters to Skateboarding: Canada and The Tony Alva Story (U.S.) will close out the fest.
WFF runs from Dec. 4 to 8, 2019.