Patricia Rozema and Robert Budreau tie at DGC Awards
The directors picked up the DGC's Feature Film award, while Tasha Hubbard won the gala's Discovery prize.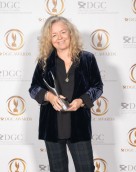 Patricia Rozema (pictured left) and Robert Budreau (pictured right) tied for the DGC's Outstanding Directorial Achievement in Feature Film prize at the 18th annual DGC Awards this Saturday (Oct. 26).
Held at the Fairmont Royal York in Toronto, the gala was headlined by comedian Gerry Dee (Family Feud Canada) and directed by R.T. Thorne (Utopia Falls).
Competing against Jasmin Mozaffari (Firecrackers), Marie Clements (Red Snow) and Zach Lipovsky with Adam Stein (Freaks), Rozema received the award for her work on Mouthpiece, while Budreau picked up the prize for his feature Stockholm starring Ethan Hawke. Elsewhere, Rozema's drama earned Lara Johnston the title of Best Picture Editing – Feature Film.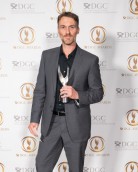 Other big winners from the night include: Jeremy Podeswa for Outstanding Directorial Achievement in Dramatic Series for The Handmaid's Tale episode "The Last Ceremony"; Jordan Canning and Jeremy LaLonde for directorial achievement in a comedy series for Baroness von Sketch Show's "Is That You Karen?"; Norma Bailey for Mary Kills People's "The Key to Faith," which won Outstanding Directorial Achievement in Movies for Television and Mini-Series; and Rachel Talalay for directorial achievement in family series for The Chilling Adventures of Sabrina's "Chapter Six: An Exorcism in Greendale." Wendy Hallam Martin also won best picture editing in a dramatic series for "June" from The Handmaid's Tale and Lisa Soper's work on "Chapter Seventeen: The Missionaries" from The Chilling Adventures of Sabrina earned her best production design in a comedy or family series.
Meanwhile, this year's Discovery Award, which honours top new directors, went to Tasha Hubbard for her Hot Docs opener – nîpawistamâsowin: We Will Stand Up. Directors in the mix for the prize included Ellen Page with Ian Daniel for their feature directorial debut There's Something in the Water, Heather Young's award-winning Murmur, Jeff Barnaby's sophomore feature Blood Quantum and more.
In the documentary category, Jennifer Baichwal, Nicholas de Pencier, Edward Burtynsky's Anthropocene: The Human Epoch walked away with the Allan King Award for Excellence in Documentary. Earlier this year, the documentary won the Toronto Film Critics Association's $100,000 Rogers Best Canadian Film Award. Best picture editing in the section was awarded to Shelley Therrien for Queering the Script.
Both Cardinal and Northern Rescue also received recognition. The third season of Cardinal saw the show win best production and best sound editing in movies for TV and miniseries for "Sam," as well as best picture editing in the movies for TV and miniseries for "Roman & Irena." Northern Rescue, meanwhile, scored two wins – best picture editing in comedy or family series for "Qué Sera" and best sound editing in a comedy or family series for "Wake Up."
Additionally, The Hummingbird Project from writer/director Kim Nguyen won best production design in a feature film; best short film went to Katrina Saville for I Beat Up My Rapist; J.R. Fountain, Jill Purdy, Steve Medeiros, Tyler Whitham, Claudia Pinto and Kevin Banks picked up best sound editing in a feature film for Scary Stories to Tell in the Dark; Tamara Deverell was honoured with best production design in a dramatic series for "Such Sweet Sorrow, Part 2" from Star Trek: Discovery; and the team behind "The Beguiling Man" from American Gods won best sound editing in a dramatic series.
Finally, the DGC Lifetime Achievement Award went to George Mihalka, while former Manitoba Film and Music CEO and film commissioner Carole Vivier received the DGC Honorary Life Member Award.
Images courtesy of Tobias Wang/Visual Bass