Thunderbird targets new streamers, doubles down on owned IP
Execs said 2019 has been a "transformative" year for the company as it expands its operations and builds on relationships with new and existing streaming entities.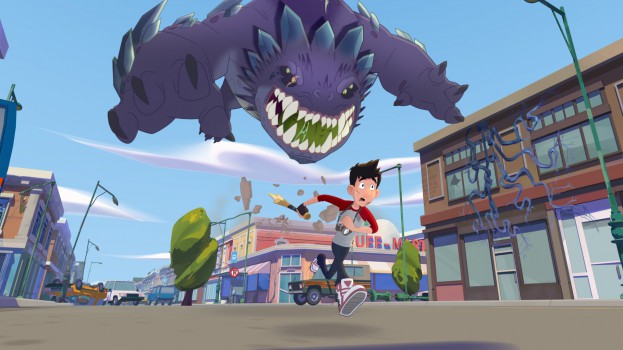 Thunderbird says 2019 was a "transformative" year for business as the Vancouver company doubled down on proprietary IP and built relationships with new and existing streaming entities.
At the same time, the publicly traded company said it dropped a number of low-margin service gigs, including projects such as The Man in the High Castle (Amazon).
"Although the series generated significant revenues, management made some tough decisions to let go of top-line revenue to focus on the creation of IP owned and higher-margin business for our expanding client base," said board chair Brian Paes-Braga during an investor call to discuss the company's year-end fiscal results for 2019.
With the additional bandwidth – as well as significant expansions to its work force across Canada – Thunderbird is redirecting resources to producing and developing IP for the booming streaming market, which is set to spring into life next month with the launch of Disney+ and Apple TV+ before HBO Max and NBCUniversal's Peacock enter the fray next year.
Estimates peg Disney's content spend for the year at around $24 billion, followed by Netflix ($15 billion), NBCUniversal ($13 billion) and Apple ($6 billion). (All estimates in U.S. dollars). And as new players come online and existing companies invest even more heavily in original content, Paes-Braga said Thunderbird is continuing to grow its infrastructure to service the escalating SVOD demand.
The company's animation subsidiary Atomic Cartoons is currently service producing a pair of shows for Disney – Legend of the Three Caballeros and 101 Dalmations – as well as Curious George (Hulu), Lego Jurassic World (Nickelodeon), Hello Ninja (Netflix) and Super Dino (Amazon).
Meanwhile, on the owned IP front, Atomic's The Last Kids on Earth recently premiered on Netflix worldwide. The show was launched alongside the fifth installment in the book series, which hit number two on the New York Times bestseller list. The property will be supported by the launch of a toy line via Jakks Pacific and Cyber Group Studios in 2020, followed by the release of a Last Kids on Earth video game in 2021. For the latter, Atomic is partnering with video game publisher Outright Games.
Paes-Braga said Thunderbird expects to expand its relationship with Netflix in the coming years ("We've just scratched the surface in terms of how much service work we can take on from them," he said), while Thunderbird CEO Jennifer Twiner McCarron said the company is in the early stages of building relationships with other soon-to-launch streaming platforms. "We're commencing relationships with HBO Max and Apple… and are in discussions with Peacock," she said during an investor call. She added that Thunderbird will be working on Lego-based projects for Disney+, as well as another "marquee" show that is yet to be announced by the House of Mouse.
The increase in production volume has been made possible by growth in its work force over the past 12 months. In December, Thunderbird opened an Ottawa office with a view to expanding both its animation and factual operations through the new outpost. By June of next year, Paes-Braga said Atomic will employ around 150 animators at the Ottawa studio. The Vancouver studio also employs around 550 animators. Globally, Thunderbird's workforce is around 1,000 across its offices in Vancouver, Ottawa, London, L.A. and Toronto.
Thunderbird on Tuesday said its yearly revenue for the period ending June 30 was $61.5 million, down from $142.4 million the prior year. The company attributed the revenue decrease to its decision not renew its multi-season service agreement to produce The Man in the High Castle. Adjusted EBITDA for the year was $10.3 million, up from $10.1 million a year ago. During the fiscal year, Thunderbird said it delivered 134.5 half-hours of owned IP across its animation, factual and scripted businesses.