POV, City of T.O. unveil Production Assistant Training Program
The five-week training and job placement program aims to increase diversity in Toronto's screen industry through supporting under-represented groups.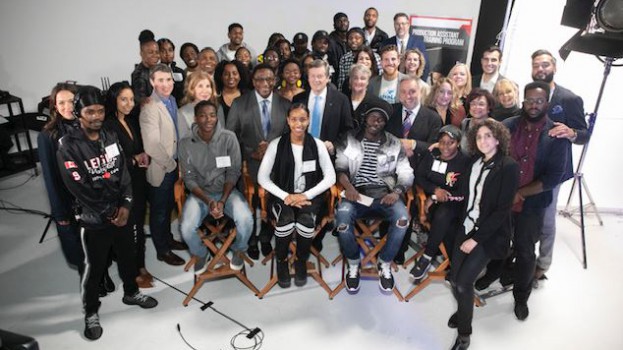 Toronto non-profit Presenting Our Vision 3rd Street (POV) has teamed up with the City of Toronto and other industry organizations to launch the Production Assistant Training Program, an initiative focused on increasing diversity in Toronto's film, TV and content industry.
The five-week training and job placement program, which runs until December, provides under-represented groups the chance to gain the skills needed to become a production assistant. Announced Friday by Toronto mayor John Tory and others, the Production Assistant Training Program is funded by the City's Poverty Reduction Strategy in partnership with the United Way of Greater Toronto, POV and the CEE Centre for Young Black Professionals.
Created and operated by POV, the inaugural cohort of this program supports 20 black young adults between the ages of 18 and 29 years old and provides technical training and skills as well as set visits, placements and job opportunities on projects like upcoming HBO TV series Run and Clement Virgo's feature film, Brother. As well, the curriculum for the Production Assistant Training Program was created in collaboration with the screen industry and input from the Directors Guild of Ontario – Canada, which will recognize participants' time in the program for its apprenticeship program and will reduce the cost of entry for it by 75%.
A City of Toronto spokesperson confirmed to Playback Daily that the City will commit funding towards the program for 2020. The City is also currently in talks with all partners to scale the program up for the years ahead.
Additionally, to coincide with the project, POV is leading a research report with United Way focused on better understanding the barriers faced by youth from equity-seeking groups entering the media industry. These findings are expected to come out in March 2020 at an xoTO City of Toronto event.
The Production Assistant Training Program follows xoTO Schools, a pilot program launched last year which allowed various domestic and international projects to gain access to pre-approved TDSB locations like the Humberside Collegiate Institute for production. As well, the program offered co-op placements for students across a variety of industries like construction, lighting, makeup, hair, special effects, props and more.
Image courtesy of Biju Pappachan, executive director of POV 3rd Street