TVA Films heads back in time with new sci-fi feature
Timescape, directed by Aristomenis Tsirbas and produced by Fullum Films, will wrap production in Montreal later this week.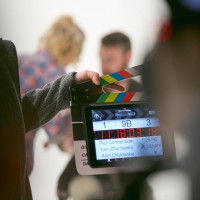 Production is set to wrap in Montreal on TVA Films' upcoming French-language sci-fi film Timescape.
The film is produced by David-Alexandre Coiteux, under his Fullum Films banner, and directed by Aristomenis Tsirbas. It follows two children, played by Sofian Oleniuk and Lola Arts, who are accidentally pulled back in time and come face to face with prehistoric dinosaurs. Filming took place in Montreal and Rawdon, QC.
TVA Films will distribute the film, which is expected to be release in 2020. Empress Road Pictures holds international distribution rights.
Timescape is Tsirbas' second feature, following his work on the animated film Battle for Terra. Before his directorial debut, Tsirbas completed special effects work on films such as Titanic and My Favourite Martian.
Image: Unsplash