How Nail in the Coffin is helping Raven Banner with its next step
Raven Banner managing partner Michael Paszt discusses how his feature directorial debut came together and what it means for the distributor and international sales agent.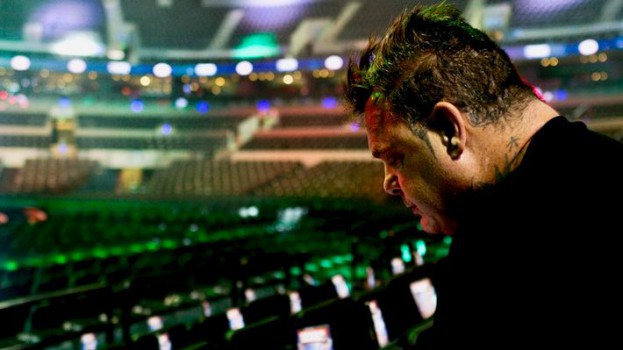 Raven Banner Entertainment managing partner Michael Paszt says his feature directorial debut, Nail in the Coffin: The Fall and Rise of Vampiro, is part of the next phase of the company's natural evolution.
"Raven Banner has been working toward becoming a full-service entity with the ability to develop, produce, distribute and sell its own original content in-house," Paszt told Playback Daily prior to the world premiere of the documentary at Fantastic Fest in September.
Penned and directed by the long-time producer and distribution exec, the Super Channel Fuse documentary follows Canadian professional wrestler Vampiro (aka Ian Richard Hodgkinson), exploring his transition from wrestler to running wrestling promotion Lucha Libre AAA in Mexico as well as his relationship with his Thunder Bay, ON-based daughter.
Produced by Hangar 18 Media, the distributor, producer and international sales agent's joint production venture with 9 Light Entertainment and post-production company Red Square Motion, Nail in the Coffin represents the first completed project to come out of the entity.
The overall goal of the production arm, according to Paszt, is to develop content that can compete in the international marketplace. "Hangar 18 will allow us to have more control through the entire process, allowing us to not only have new content for markets, but hopefully content that the international buyers are looking for," the director says, explaining that listening to buyers will give the company a leg-up to "reverse-engineer" potential projects based on tastes and interests. Nail in the Coffin will be an example of what the company can produce in-house, both quality and content-wise, he says. "Our partnership with Pasha Patriki in Hangar 18 Media had been key in achieving this," Paszt adds.
Born out of his connection to Hodgkinson, the idea for the documentary started to come together two years ago, when Paszt reconnected with the wrestler during a chance encounter. The pair had previously met 17 years ago, back when Paszt was living in Mexico City, working for a weekly wrestling-focused magazine called Super Luchas. "I found it fascinating how a guy from Thunder Bay could end up in Mexico City, not only becoming a wrestling star but also iconic," the exec producer behind Trench 11 and Turbo Kid explained, noting that what also attracted him to the story was how Hodgkinson was commuting back and forth to between Mexico and his hometown to raise his daughter.
After some initial discussions about bringing the project to screen, Paszt says Hodgkinson eventually came to the decision that Paszt was the only one he wanted to direct the documentary, citing his passion and respect for lucha libre. "He pushed me, he said I want you to direct this," says Paszt. Shortly after that, Super Channel came on board, helping finance the feature as a broadcast pre-sale. Alongside support from the broadcaster, the film was also financed with private investment, tax credits, international sale support and distribution from Raven Banner. Vice Canada also joined forces, providing Nail in the Coffin's post-production services, helping bring the film to the finish line.
Following its premiere at Fantastic Fest, the documentary will make its Canadian festival run, with its next stop set for Montreal's Festival du nouveau cinéma. Raven Banner, meanwhile, is currently planning Nail in the Coffin's theatrical release across Canada for this December.
And although Nail in the Coffin is the first Hangar 18 title to make its debut, it isn't the only project on the production company's slate. Spare Parts, a horror film directed by Paszt's fellow Raven Banner managing partner Andrew T. Hunt, recently went to camera in Sudbury and is currently in post-production. "While we have our distribution business and we have our international sales business, we still want to keep creative," Paszt says. "For me, at this point in my career, I never thought I'd be directing a feature and it's exciting. I think it's so important to always challenge yourself."
Producers on Nail in the Coffin include Paszt, Bruno Marino and Pasha Patriki from Red Square Motion, 9 Light Entertainment and Hangar 18 Media. Maye Ornelas serves as an associate producer on the project.