Mohamed Fahmy brings eastern stories west with Ensan Films
The factual prodco, launched out of Vancouver, was formed to further raise the profile of eastern conflicts to western audiences, starting with a doc on corruption in Turkey.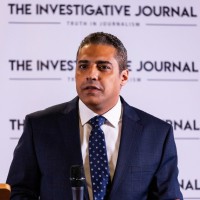 North American audience demand for documentary is hitting a fever pitch, providing an opening for one high-profile journalist to bring long-overlooked investigative pieces into the limelight.
Ensan Films was launched in Vancouver by Canadian-Egyptian journalist Mohamed Fahmy (pictured) earlier this year. He garnered international attention in 2013 when he was arrested in Egypt along with two other Al Jazeera journalists. He would eventually go free in 2015 and return to Canada.
"I've witnessed firsthand what it means to silence a journalist who is exposing nothing but the truth and doing his job," Fahmy told Playback Daily.
Fahmy is currently serving double duty as a producer of Ensan Films and CEO of news site The Investigative Journal, which publishes long-form investigative content. One of the site's articles sparked inspiration for Ensan Films' current documentary production, The ISIS Beast, which documents how the Turkish government has aided and armed ISIS and Al Qaeda cells in Syria. Fahmy is a writer, researcher and producer on the film, which currently does not have a director attached.
The feature-length doc will span countries such as Syria, Iraq, Germany, and Sweden, as well as Washington D.C. in the U.S., and Fahmy is personally financing the film, with the aim of finding financial support during the post-production stage.
The team recently finished an 11-day shoot in Syria, where they spoke with ISIS fighters on-camera. Fahmy says security is top-of-mind when it comes to filming in Syria and Iraq, well aware of the danger they face when uncovering a story of this nature. "We are definitely being as cautious as possible and surgical in our access to these conflict zones," says Fahmy.
The ISIS Beast will also feature journalists who have faced jail time or kidnappings and death threats thanks to their investigative work, such as Lindsey Snell, who was kidnapped in Syria before being released and then detained for two months in Turkey. Snell also serves on The Investigative Journal's advisory board.
Once production wraps, Fahmy plans to bring the film to the international festival circuit and eventually find broadcasting partners in Canada and the U.S. to air it to a larger audience, with early talks already underway with potential broadcasters. It is part of Ensan Films' larger mandate, which is to raise awareness of eastern conflict and corruption to western audiences. Calling the prodco a "platform for change," Fahmy says the company will screen its documentaries at universities to speak directly to students to educate them.
Fahmy has seen the positive impact documentaries can have through his previous work with CNN. The U.S. news network aired Death in the Desert, a documentary Fahmy worked on in 2012 as part of CNN's Freedom Project, which shines a light on modern-day slavery. The documentary exposed the human trafficking of African refugees in Sinai, where Fahmy said they filmed under difficult circumstances, including being pursued by smugglers and gang members. Following its release, Egyptian authorities were able to track down the criminal ring and free more than 600 slaves. "There are very few times when a journalist can actually feel the tangible effects of a product or film that he produces," he says.
Ensan Films' barrier-breaking mandate is also upheld through its ambassador program, which sponsors Canadian and Egyptian film students to visit their respective countries. The first Ensan Ambassador is Egyptian director Assem Metwally, who spent the summer at the Vancouver Film School to take its advanced filmmaking course. The school waived course fees as part of the program. Now Metwally is working with Fahmy on The ISIS Beast. Ensan Films is accepting applicants for Canadian film students to travel to Egypt in the winter to film at excavation sites and learn on location.
"The whole idea of this ambassador exchange program is to exchange ideas and help these filmmakers have a grip on both cultures and environments," says Fahmy.
Ensan Films has a number of documentaries on its production slate, all of which are in the research stage. The docs will cover topics such as a mass cybercrime operation in Qatar, which saw more than 1,400 emails from Canadians, Americans, Europeans and Arabs hacked, and Pakistan's efforts to de-radicalize extremists and terrorists.