JANN starts its second verse in Calgary
CTV has upped the episode order in season two, bringing the total to eight, while Jennica Harper returns as showrunner.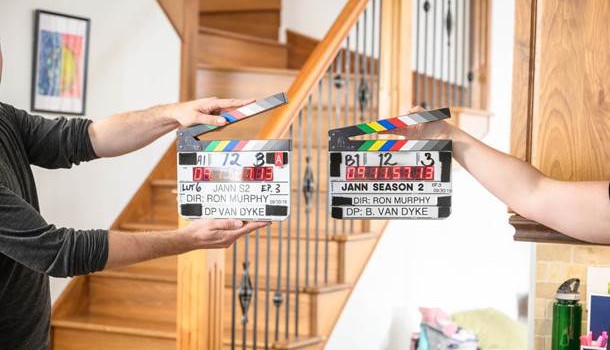 Jann Arden is back in production in Calgary on season two of her hit sitcom JANN.
Produced by Project 10 Productions and SEVEN24 Films, the new season will see a boosted episode count, increasing from season one's six episodes to eight. CTV first announced the season two renewal at its upfront presentation back in June with the season premiere set for midseason 2020.
Co-creator Jennica Harper will return as showrunner, as well as an executive producer alongside co-creators Arden and Leah Gauthier. Also serving as executive producers are Project 10′s Andrew Barnsley and Ben Murray, and SEVEN24′s Tom Cox and Jordy Randall. Ron Murphy will return as the director on season two. Harper and Gauthier are joined in the writers room by Mike McPhaden (Corner Gas Animated) and Nelu Handa (Baroness Von Sketch Show), along with new writer Sophie Caird.
Returning to the cast alongside Arden are Zoie Palmer (Dark Matter), Deborah Grover (Anne with an E), Patrick Gilmore (Travelers), Elena Juatco (Dark Cargo), Jason Blicker (F/X: The Series), Sharon Taylor (Bad Blood), Alexa Rose Steele (Degrassi: The Next Generation), Ceilidh MacDonald and Keaira Pliva.
New guest stars for season two include Sarah McLachlan, as herself, as well as Elisha Cuthbert (Happy Endings) and singer Keshia Chanté.
JANN's first season drew in solid ratings for CTV, with 1.4 million viewers tuning in for the season premiere. It would go on to bring in a total of 2.8 million viewers during various broadcasts, putting its debut on par with CTV comedy The Indian Detective.
Image courtesy of Bell Media