Folklaur Chevrier acquires life rights to Christine Jessop cold case
The child protection activist and actor has received consent from the Jessop family to tell their story through a feature-length documentary.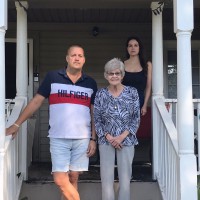 Child protection activist and actor Folklaur Chevrier has acquired the life rights to the Jessop family's story to shed light on the murder of Christine Jessop, a nine-year-old schoolgirl from Queensville, ON who died nearly 35 years ago.
Chevrier – whose credits include roles on Ghostly Encounters and Beauty Learning – has been granted consent to depict Christine's mother Janet, her brother Kenneth and Jessop in a feature documentary on their lives and the circumstances surrounding the Canadian cold case.
Chevrier's production banner Folklaur Films is currently in talks with directors, writers and co-producers to bring the project to screen. The documentary is the first production to come through the company.
On Oct. 3, 1984, Christine Jessop disappeared after school and her body was discovered three months later, on New Year's Eve, 56 kilometres from her home. Her neighbour Guy Paul Morin was wrongfully convicted of her murder and, after serving 18 months in jail, was exonerated using advancements in DNA testing.
According to a press release, Chevrier, who is involved with the Canadian Centre for Child Protection, approached the family 10 years ago, after the surge in press around the 25th anniversary of Jessop's case. Gradually, they opened up to the idea of a film.
"I will document what they feel has been their experience and will share their truth with authenticity," she said in a statement. "Accuracy and fairness are the two guiding principles as I truly care about the integrity of this project. This heartbreaking story is in part for the audience to see what the Jessop's have gone through and to see how they have astonishingly survived."
Image courtesy of Folklaur Chevrier. L to R: Kenneth and Janet Jessop with Folklaur Chevrier.