Scott Garvie re-elected for fourth term as CMPA chair
The Shaftesbury SVP, who has served as chair since 2016, will continue to lead for the 2019-21 term, with six new directors elected to the board.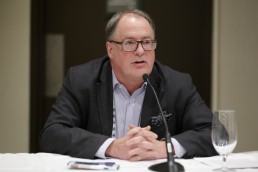 Shaftesbury SVP Scott Garvie will lead the CMPA's board of directors for another term, following the results of the association's annual general meeting.
Garvie has served as chair of the board since 2016 and will now hold the position until the next term in 2021. CMPA president and CEO Reynolds Mastin said in a statement that Garvie's continued leadership means that the organization can focus on member engagement and building a "strong future for independent producers" during a time of uncertainty with the pending federal election and Broadcasting and Telecommunications Legislative Review panel report.
The 24-member board has elected six new directors, including Wind Sun Sky Entertainment's Catherine Winder, Eagle Vision's Kyle Irving, Ideacom International's Josette Normandeau, Muse Entertainment's Aren Prupas, Vertical Productions' Ann Bernier and Sara Fost Pictures' Allison White. The board is evenly split between men and women, according to Garvie in a statement, adding the CMPA aims to lead by example on "diversity, inclusion and transparency" in the industry.
The parity reflects recent statistics from Telefilm Canada and Canada Media Fund, revealing that both the film and television sectors reached gender parity for female producers in the previous fiscal year.
Original Pictures' Kim Todd and Lark Productions' Erin Haskett will continue to serve as co-vice-chairs in the new term, and WildBrain's (formerly DHX Media) Anne Loi remains as Treasurer. Marblemedia's Mark Bishop will serve as secretary, while Breakthrough Entertainment's Ira Levy reassumes the role of director emeritus.
The CMPA recently promoted Liz Shorten to the new role of COO to oversee staff and operations across its offices in Ottawa, Toronto and Vancouver, as well as implement a corporate strategic plan for the association.