Reflector Entertainment looks to build a new kind of platform
Alexandre Amancio and Guy Laliberte's company is trying to build something akin to a streaming service for multimedia story universes.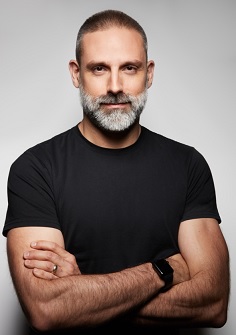 Reflector Entertainment isn't short on ambition.
The five-year-old Montreal company is a disruptive transmedia studio focused on creating enormous story universes that include interconnected movies, TV series, video games, podcasts, graphic novels and AR/VR experiences.
Rather than simply being a content company, co-founder and CEO Alexandre Amancio (pictured) says he has a different vision for Reflector.
"We build worlds, and we put that at the very forefront of our business model. What we're trying to do is nothing less than to disrupt the current model for entertainment companies," he tells Playback.
The scope of Reflector's aspiration is easier to understand when you know more about the people behind it.
Amancio is the former creative head for Ubisoft's Assassin's Creed, one of the most popular franchises in video game history. While working on Assassin's Creed, Amancio said he spent much of his time working out how the IP could be extended beyond the realm of the video game, which was a sensation in its own right. "Very early on I came to believe and understand that the universe was much more important than the games that we were making," he says.
The other co-founder is none other than entrepreneur and Cirque du Soleil co-founder Guy Laliberté, who connected with Amancio when the former was in the middle of selling his stake in the Quebec-based entertainment company.
Occult supernatural thriller Unknown 9 is the first story world Reflector is building out. Production is slated to begin later this year on a video game, while the company is in development on a pair of feature films, one of which heads into pre-production later this year. On top of that, the story world will also contain a mockumentary, novel trilogy (the first of which is already written), podcast series, graphic novel and a TV series that goes into development in early 2019. As the story unfolds across all the mediums mentioned above, Amancio says audiences will uncover stories about the nine unknown immortals that hold the keys to humanity's greatest mysteries.
Content from Unknown 9's first "story cycle" will begin rolling out in 2020, with an announcement outlining its exact plans expected early in the year.
While Amancio and Laliberté's ambitions for Unknown 9 may be vast, the eventual goal goes beyond even that. Reflector plans to build out a platform not dissimilar to a streaming service (think Netflix or Amazon Prime Video), but one dedicated to story worlds like Unknown 9 and others in its pipeline. "It's not a platform to watch films, series or play games – it's to consume universes," he says, adding that the Reflector platform would also host story universes from third-party companies. "That's the ultimate goal."
A version of this story originally appeared in the Fall 2019 issue of Playback magazine