Emmys a hit for CTV, but viewership down overall
Canadian audiences didn't tumble like they did in the U.S., possibly the result of plenty of homegrown nominees.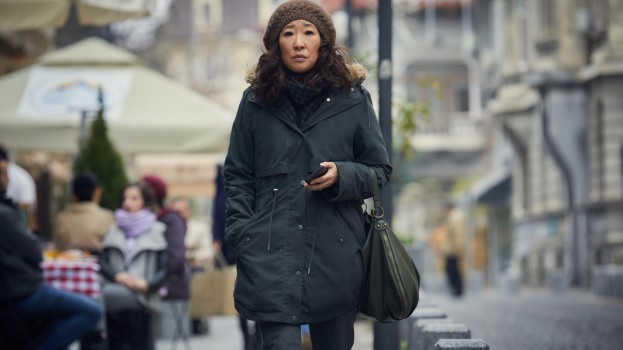 The 2019 Emmy Awards on CTV may have pulled in a hefty viewership on Sunday night but the audience was down, according to overnight numbers by Numeris, provided to Playback sister publication Media in Canada by Bell Media.
A total of 1.7 million viewers tuned in for the 71st annual celebration honouring the television arts, down from last year's 1.8 million. This year's audience numbers resembled 2017 when 1.7 million tuned in.
Despite a slight drop (approximately 5.6%), the Canadian audience was more resilient than that south of the border. In the U.S. the Emmys hit a "record low", falling 33% in viewership on NBC, according to Nielsen figures, watched by a total 6.9 million viewers, compared to 10.2 million last year.
Canadians had plenty of reasons to tune in, with numerous Canadians nominated for big awards, including CBC's Schitt's Creek for Supporting Actor, Actress and Outstanding Comedy Series, Ottawa native Sandra Oh (pictured) for her role in Killing Eve and a nomination for Montreal-based Felix & Paul Studios. A handful of historic moments also marked the ceremony as Billy Porter, the first openly gay black actor to win Outstanding Lead Actor in a Drama Series took home the Emmy for his role in Pose and Peter Dinklange took home his fourth Emmy for Outstanding Supporting Actor in a Drama Series for Game of Thrones.
Canadian audience numbers peaked at 2 million during the presentation of Outstanding Supporting Actress in a Comedy Series – Alex Borstein of The Marvelous Mrs. Maisel took the honours – around 8:18 p.m.
Total reach for entire broadcast hit 5.4 million, also a decrease from 6 million in 2018.
This year, the Emmys also went without a host – widely panned a "fail" by critics – opening the show with Homer Simpson and Bryan Cranston.
This story originally appeared in Media in Canada