Chad Faust rolls on feature directorial debut, Girl
The revenge thriller written and directed by Faust (The 4400) stars Bella Thorne (pictured) and Mickey Rourke.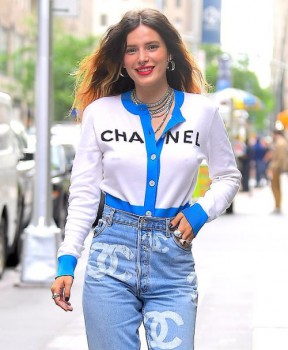 Production is underway in Sudbury, ON on Chad Faust's feature directorial debut, Girl.
Written and directed by Faust, the thriller stars Bella Thorne (The DUFF, pictured) as a young woman who returns to her hometown to kill her abusive father. When she discovers someone else has got to him before her, she starts looking for answers.
Faust (The 4400), who recently served as an exec producer on Billionaire Boys Club starring Ansel Elgort, also acts in the film alongside Mickey Rourke (Sin City). His credits also include co-writing and producing Better Start Running and starring in projects like Saved!.
Producers include Thomas Michael from Toronto and L.A.-based Fella Films, Shayne Putzlocher from Toronto and Calgary-based Trilight Entertainment and Sara Shaak from Calgary's Anamorphic Media. Production is expected to wrap in early October. Lee Nelson and David Tish from Envision Media Arts serve as exec producers alongside DDI's Jason Morning.
Pacific Northwest Pictures (PNP) is set to distribute the revenge thriller in Canada, while U.S distribution will be handled by Screen Media. Girl is financed by Anamorphic Media and received support from the Northern Ontario Heritage Funding Corporation (NOHFC).
Just last month, prior to TIFF, PNP revealed it would cease its operations in Vancouver, moving its headquarters to Toronto to allow the distributor and prodco to consolidate its operations.
Image of Bella Thorne courtesy of producers