TIFF '19: Heather Young's Murmur takes Discovery prize
Canada/U.S. copro Anne at 13,000 ft earned an honourable mention in the Platform competition, while the remaining awards will be announced via social media.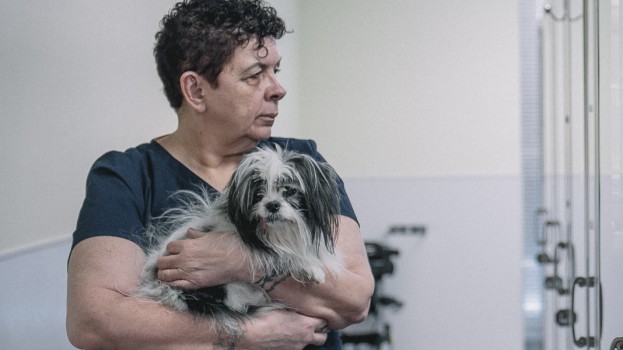 The Toronto International Film Festival has unveiled the first of its 2019 prizes, with Heather Young's Murmur picking up the FIPRESCI prize for TIFF's Discovery program.
Murmur is written, directed, edited and produced by Young under her Houseplant Films banner, and serves as her feature film debut. Martha Cooley also serves as a producer on the film, which was among the first round of recipients of Telefilm Canada's rebranded Talent to Watch program.
Young told Playback Daily prior to the festival that the film was shot over 25 days on a $270,000 budget. She describes the film, which follows an isolated, aging woman forced to do community service at a dog shelter after a DUI, as a "documentary-fiction hybrid." The cast was comprised of non-professional actors who played versions of themselves, with Young providing direction, scene structure and tone as they improvised their own words.
The film has also been selected to open this year's FIN Atlantic International Film Festival, which is the first time a debut feature has opened the festival in 30 years, according to a FIN rep.
The prize was determined by a jury of film critics, comprised of Frédéric Jaeger (Germany), Liam Lacey (Canada), Ruben Peralta Rigaud (Dominican Republic), Müge Turan (Turkey), Claire Valade (Canada) and jury president Rita di Santo (U.K.).
Kazik Radwanski's Anne at 13,000 ft, meanwhile, picked up an honourable mention in the Platform competition. The film is written, directed and produced by Radwanski under his banner Medium Density Fibreboard Films (MDFF), as well as Film Maudit. Cercamon holds international sales rights.
Italy/France copro Martin Eden, co-written and directed by Pietro Marcello, won the Platform award, which includes a $20,000 cash prize, while Alice Winocour's France/Germany copro Proxima also earned an honourable mention. U.K. world premiere How to Build a Girl picked up the FIPRESCI prize for special presentations.
The festival also revealed it has canceled the closing ceremony, opting to announce the remaining prizes, including its two Canadian feature prizes and the Grolsch People's Choice Award, on social media and via a press release. A TIFF rep told Playback Daily that the decision was due to the fact that many filmmakers have already departed before the end of the festival, with social media announcements allowing winners to "share the moment" with audiences.
With files from Lauren Malyk
Image courtesy of TIFF