Blood Quantum's decade-long wait for a zeitgeist moment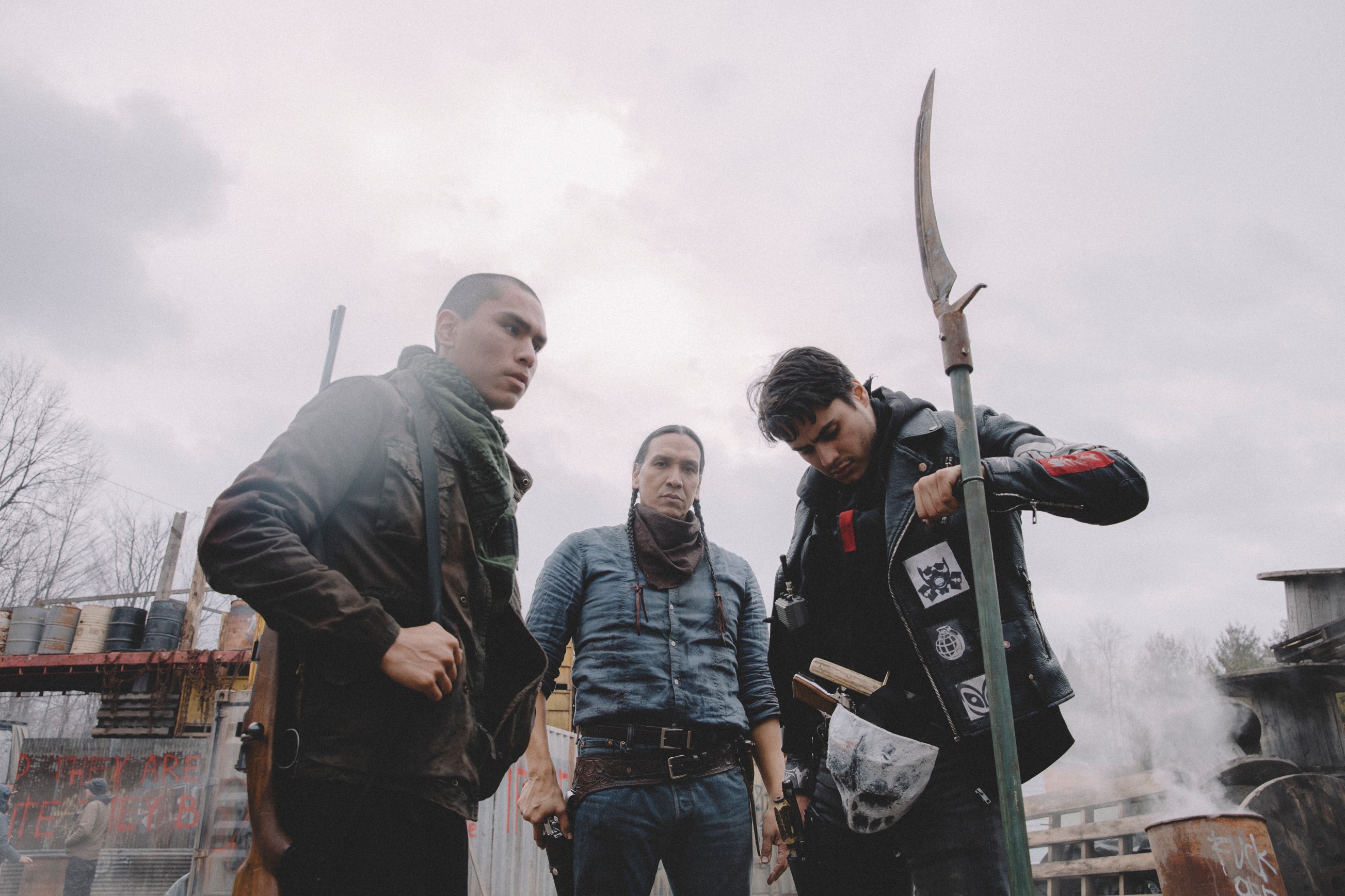 How the team behind the Indigenous genre flick persevered and plotted a course to take the $5.2-million film to Shudder, TIFF and around the globe.
Filmmaker Jeff Barnaby and producer John Christou were killing time between screenings at TIFF '07 when the conversation turned to what their next project should be.
The pair were attending the festival for the premiere of Barnaby's short, The Colony, produced by Christou. The next stop on the road map naturally seemed to be a feature.
"What about zombies?" asked Barnaby, but Christou shot down the idea for its lack of originality. So Barnaby, a Mi'kmaq film director who grew up on the Listuguj reserve in Quebec, thought harder about ways to approach it and came back with a concept that married his fascination with the horror genre and his calling to tell Indigenous stories: "What if the Indigenous people were immune and all the white people became zombies?"
Christou loved the idea. But Canadian film history is littered with good ideas that were conceived at the wrong time or place. Sometimes the market, funders and buyers simply don't align for certain stories.
That seemed to be the case in 2007, says Christou, adding that some argued a Canadian Indigenous film costing upwards of $5 million would never get made. Plus, Barnaby was an unproven commodity as a feature-length director, and things ground to a halt at the financing stage. The project was placed on the backburner.
In the meantime, Barnaby and Christou teamed to produce the more modestly-budgeted Rhymes for Young Ghouls, which premiered at TIFF '13. It served as a perfect showcase of the breadth of Barnaby's talents, teeing up a second attempt to bring Blood Quantum to life.
Fast forward to 2017, when Christou, prompted by a conversation with XYZ Films' Toronto-based partner Todd Brown, reignited the quest. "He really thought the climate was right to get the film financed," says Christou.
And he was right. The financing process, which stalled almost before it began in 2008, moved rapidly the second time around. Within six months, Christou and Barnaby locked in financial commitments from The Movie Network (now Crave), SODEC, Telefilm, Elevation Pictures, Entract Films and CBC.
"We can't fund Indigenous filmmakers at the micro-budget level and expect a bunch of breakouts." John Christou, producer, Blood Quantum
It was no accident, says Christou. "We're in a zeitgeist moment where audiences, distributors and cinemas are ready for this film." Titles like Black Panther and Jordan Peele's films have blazed a trail and changed the rules for diverse projects looking for mass appeal, he says, and the film "is being delivered in a moment where that opening is there for Indigenous filmmakers, cast and stories."
With Canadian backers in place and the budget set at around $5.2 million, filming began last spring in Montreal, the Kahnawake Mohawk Territory and Barnaby's hometown of Listuguj, QC.
With filming complete, sales agent XYZ began shopping the film in the U.S. and international markets, eventually striking a deal with AMC Networks-owned horror streaming service Shudder for territories including the U.S., U.K., Ireland and Australia. Currently, the film is not committed to a streaming-only release in the U.S., says Christou, and the plan is for Shudder to partner with a theatrical distributor to release the film in American cinemas in 2020. In addition, XYZ locked up deals in Japan, Indonesia, South Korea, India, Germany and Italy.
Elevation's SVP of marketing and acquisitions Adrian Love says the release strategy will focus on two separate marketing streams that balance the film's "commercial genre appeal with the strong political voice that lies underneath it." The first will be targeted toward "arthouse, high-minded" horror audiences drawn to titles like The Witch, as well as the Indigenous audiences portrayed in the film. The second will go for mass appeal. "Right now, we're trying to be as mass as we can be with an art horror film."
He's quick to add, though, that the reaction to a horror flick such as Blood Quantum, especially as it opens TIFF's Midnight Madness program, will be crucial in determining how Elevation approaches the marketing strategy ahead of its 2020 Canadian theatrical release.
Beyond simply being well received by audiences, Christou hopes the film can open doors for more big-budgeted Indigenous features. "We can't fund Indigenous filmmakers at the micro-budget level and expect a bunch of breakouts. They need to have impact budgets, otherwise the films will be marginalized."
This story originally appeared in Playback's Fall 2019 issue