More investment needed to stimulate Canada's formats biz
Factual execs gathered at Content Canada to discuss the health of the domestic formats business and explore ways to nurture more export-ready hit formats.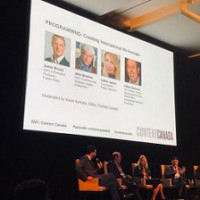 Executives in the Canadian unscripted space gathered Wednesday at Content Canada for a discussion about the relative health of the domestic formats business, and to explore new ways to enable Canadian-made formats to break through internationally.
Moderated by Content Canada editor Adam Benzine, the panel featured Frantic Films CEO and executive producer Jamie Brown, Insight CEO and chairman John Brunton, Proper Television co-president Cathie James and Warner Bros. International Television Production's VP of creative, format, development and sales Adam Steinman.
The domestic industry is in a period of flux as local broadcasters, which for decades focused more squarely on the Canadian market, look to monetize Canadian IP in international markets.
"There hasn't been an export mentality with our broadcast partners until the last few years, because now it's hard to rent American content – all the OTTs coming into Canada are making a big difference," said Brunton, "and they are realizing they have to be in the export business." He added that recent series Insight has worked on, including The Launch (Bell Media) and Battle of the Blades (CBC), have seen significant investment on the part of the Canadian networks.
Of course, acknowledges Brunton, broadcasters were previously unable to share in international revenues because of Canada's terms of trade agreement, which expired in 2016, paving the way for them to begin monetizing content globally.
It's a situation that creates an opportunity for producers and broadcasters alike, said Frantic's Brown, if those broadcasters are willing to put more money into format development.
"We need to partner with our nets, encourage them to invest more – not the minimal development money but to invest to build something that's going to be a world beater. That's going to cost more," he said, adding that producers should also be prepared to share a greater portion of the worldwide revenues if broadcasters are prepared to invest more at an early stage. "We do seem to be hitting a bit below our weight in this genre, when we're doing so well in so many others."
Panelists unanimously agreed on one way that the formats business in Canada could be grown: opening up tax credits to include game shows, which are not currently eligible.
"It doesn't make a lot of sense to me that it isn't recognized in today's environment," said Brown.
Steinman noted that, of the world's top 20 selling formats, around eight are game shows.
"Everyone wants that Who Wants to be a Millionaire? or The Voice, the big shiny floor shows," he said. "If game shows aren't eligible for tax credits, then [producers are] not sitting in a room coming up with game show ideas. But someone needs to start doing that – those are the shows that sell. Those are the shows that we're looking for around the world," he said.
There are initiatives underway to nurture the domestic formats business, most notably CBC's Format Incubator on which it partners with Warner Bros. International Television Production.
Among the formats produced through the program is Frantic's Stats of Life, which ran on CBC for two seasons (2017-2018). The format features data from Statistics Canada, presented in a graphic-driven format aimed to entertain and educate.
Brown was very candid with his assessment of the Frantic format. "To be completely honest, I don't think we've developed a fantastic format…as far as what a format needs to have. That was partially because, for the most part, we were doing it on our own," he said.
Looking ahead, Canadian-made formats would benefit from a more international lens during the development phase, he noted.
"If I were to make my pitch to a broadcaster about investing more, I'd say we need to bring some people in from Israel, the Netherlands, or wherever they're making these, and learn from them [by asking] 'How are you approaching this? What are the steps you're taking in development. How are you taking this risk?'"
Producers looking for exportable new formats should look to the Quebec market, noted Steinman. "There's an amazing treasure trove of original formats coming out of Quebec," he said, adding that Warner Bros. International Television Production is in development with Frantic on an adaptation of a Quebecois format, First Times, which looks at the the formative experiences of famous artists and performers.
Meanwhile, James said the collaboration between domestic production companies and broadcasters can help lead Canada's formats business forward. The Proper co-president noted that both Proper and Insight are working with Corus (both creatively and in terms of helping to bring in talent) on formats that the media company has created in-house.
"There are some really interesting partnerships now taking place, which gives me a lot of faith that we can start to do what producers in the Netherlands, Israel, Korea – other countries that are really punching above their weight in terms of format creation – are doing," she said.