TIFF '19: Robert Lantos discusses 'most challenging' film, The Song of Names
The Serendipity Point Films head talks about bringing the $22-million period drama to screen, redressing Budapest as 1940s London and his upcoming film and TV projects.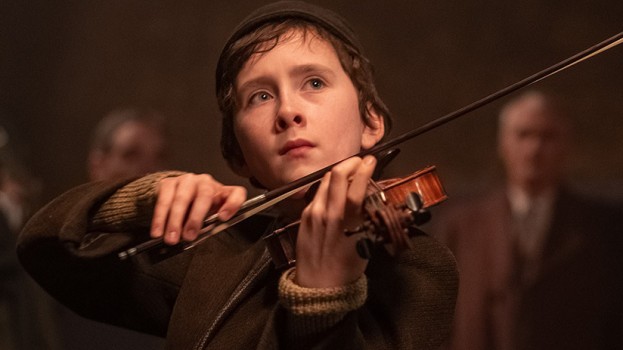 It's not uncommon to hear producers and filmmakers call their most recent project their toughest to date. But when Serendipity Point Pictures head Robert Lantos makes the claim, it carries that much more weight.
"I exaggerate not when I say this is the most difficult, challenging film I've ever produced," Lantos tells Playback Daily of The Song of Names, a Canada/Hungary coproduction premiering at the Toronto International Film Festival.
It's been five years since Lantos, who has produced more than 40 films throughout an illustrious career spanning more than four decades, optioned the film rights to Norman Lebrecht's novel about a young Polish violin prodigy who vanishes on the night of his first public performance.
Penned by Jeffrey Caine (The Constant Gardener), the film is directed by François Girard (The Red Violin) and stars British actors Tim Roth (The Hateful Eight) and Clive Owen (Children of Men). It is produced by Serendipity Point, Montreal's Lyla Films and Budapest-based Proton Cinema.
Shot last fall in Hungary (primarily), as well as London, Montreal and Poland's Treblinka extermination camp, the $22-million film is an ambitious London-set period drama which takes place in multiple time periods between 1939 and 1986.
Chief among the challenges, says Lantos, was putting together a budget in excess of $20 million – in today's market – for an independently-produced period drama. Among the projects backers are Telefilm, SODEC, CBC, Bell Media, Ontario Creates, Feel Films and London, U.K.-based film sales, distribution and marketing company, HanWay Films. HanWay Films is handling international sales, while Elevation Pictures will distribute in Canada. Ingenious Media, based in the U.K., is also a financier on the project. Sony Pictures Classics acquired U.S. rights to the film, while HanWay has sold it to multiple territories.
That budget was needed to execute the film's ambitious vision. The Song of Names features dozens of large crowd scenes, with hundreds of extras in period costume and makeup. The production team took entire streets in Budapest and re-dressed them as 1943 London, a process that meant bringing in British period cars and fire trucks. They turned a block's worth of shopfronts into the rubble of a bombed London.
"We could have used double that, given the complexity of this film," says Lantos. "If it were being made by a Hollywood studio, [the budget] would have been $50 million." He adds that Serendipity Point forfeited its producing fees on the film.
The music for the film was no less complex. "The Song of Names" is actually a composition within the film, and, as the title suggests, music is a central theme of the story.
Lantos brought in long-time collaborator Howard Shore – the Oscar-winning film composer who scored The Lord of the Rings trilogy – to write the music. Unlike most feature films, where the music is written after filming has wrapped, Shore began writing the music two years before shooting started. The main composition, written for the violin, was played by internationally celebrated Taiwanese-Australian violinist Ray Chen, who is among the most highly regarded solo violin players in the world. The score was recorded with the Montreal Metropolitan Orchestra at Tres-Saint-Nom-de-Jesus Church in Montreal, which was chosen for its ambience and acoustic qualities.
"We tried to do this without making any artistic compromises; to keep the film of the highest quality every step of the way," said Lantos.
Among the other projects in the works at Serendipity Point is a film based on Michael Ondaatje's 1987 novel In the Skin of a Lion. "This might sound far fetched, but it's the truth: I've been working on it since 1998," says Lantos. "After all those years, and attempting to develop literally half a dozen screenplays with writers, we have what I think is a brilliant script" said Lantos of the screenplay penned by British scribe Simon Beaufoy, who won an Oscar for Slumdog Millionaire.
On the television front, Lantos said he is in development on a limited series based on David Cronenberg's novel Consumed. Cronenberg is currently penning the TV adaptation and is attached to direct.
Executive producers on The Song of Names are Mark Musselman, Randy Lennox, Peter Touche, Stephen Spence, Tibor Krsko and Anant Singh.