Matt Johnson, Adam MacDonald projects backed by HGF
This latest funding round closes out the Harold Greenberg Fund's 2019 fiscal year, with 67 projects sharing a total investment of more than $1 million.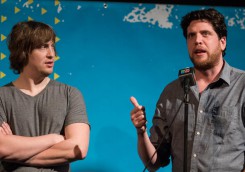 Directors Matt Johnson (pictured, left) and Adam MacDonald are among the recipients in the Harold Greenberg Fund's latest round of financing.
MacDonald is set to write and direct Antigravity Entertainment's The Donnellys, with Owen Kelly, Michael Walker and Robert Menzies attached as producers. Meanwhile Johnson will direct and co-write Kill Hitler for Zapruder Films. Matthew Miller (pictured, right) will produce and co-write the film, with Joshua Boles also on board as a co-writer.
The Harold Greenberg Fund closed out the 2019 fiscal year with a total of 67 projects supported over an investment of more than $1 million.
Additional projects from established filmmakers selected for funding include Danishka Esterhazy's Jagged Winter, produced by Judy Holm under her Markham Street Films banner and written and directed by Esterhazy. Igor Drljaca's Tabjia also picked up funding. Drljaca will write, direct and coproduce the project under his Timelapse Pictures banner with Albert Shin. Gearshift Films' Borga Dorter is also a producer on the project.
Philippe Hébert's short story Mary the Life Saver, which Devonshire Productions has optioned the rights to, is among the adaptations to receive funding. Prodco president Paula Devonshire will produce and co-write the project, with Rama Rau on board to co-write and direct. Hawkeye Pictures' adaptation of Harriet Alide Lye's debut novel The Honey Farm has also been selected for funding. Sonya Di Rienzo is set to produce, while Jordi Mand will pen the script.
Films from emerging directors include Liz Cairns' Inedia, produced by Experimental Forest Films' Tyler Hagan; Luis De Filippis' Something You Said Last Night, produced by JA Productions' Jessica Adams and Charlie Hidalgo; and Lisa Jackson's Mush Hole, produced by Clique Pictures' Lauren Grant.