Natalie Urquhart joins Wildling Pictures as director of development
In addition to the hire, the film prodco revealed it will soon go into production on a new thriller, See For Me, directed by Molly McGlynn.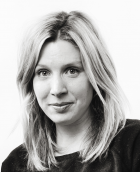 Former Amaze Film + Television director of development Natalie Urquhart (pictured) has joined Wildling Pictures in the newly created role of director of development.
Reporting to Wildling Pictures founder and producer Matt Code, she will be responsible for managing the company's development slate, as well as soliciting new material. In a statement, Code noted that the producer and development exec has demonstrated an eye for the types of stories and talent that Wildling Pictures values.
In addition to her time with Amaze, Urquhart's credits include working as an associate producer on Toronto-shot series Suits (NBCUniversal), the half-hour comedy pilot Rogue Bridal (Makeful) and shorts like Throwing Cotton (2014). A CFC and NSI Totally Television graduate, Urquhart was recently selected for Just For Laughs' CBC Comedy Original Pitch Program with writer/director Marni Van Dyk for the project Naked Nancy.
Alongside Wildling's Kristy Neville, she will pitch Paying For It at Telefilm Canada's 2019 Pitch This! Competition. A rom-com based on Chester Brown's 2011 graphic novel of the same name from writer/director Sook-Yin Lee, the project picked up script development funding from the Harold Greenberg Fund this February.
Wildling is also headed to TIFF with two projects this year: Talent to Watch-supported Easy Land from writer/director Sonja Zivkovic and animated short Hot Flash, a collaboration with Toronto's Tinman Creative Studios.
Most recently, the prodco wrapped production on David Bowie biopic Stardust, a copro with U.K. and L.A.-based Salon Pictures, which will be released by Elevation Pictures in Canada. London, U.K.-based Film Constellation has pre-sold the film to NFP for Germany, Austria and Switzerland; Icon for Australia and New Zealand; Culture Entertainment for Japan; Falcon for the Middle East; Russian World Vision for the Commonwealth of Independent States or CIS and the Baltics; Outsider for Portugal; Noori Pictures for Hong Kong and Taiwan; PVR for India; and Captive Entertainment for airlines.
Additionally, Wildling is close to production on the thriller See For Me from writers Adam Yorke and Tommy Gushue, which will be directed by recent TFCA Stella Artois Jay Scott-winner Molly McGlynn.