DGC Ontario launches "Hey, Hollywood" campaign
As some of Hollywood's most powerful decision makers descend on Toronto for TIFF, the guild is highlighting the achievements of local talent.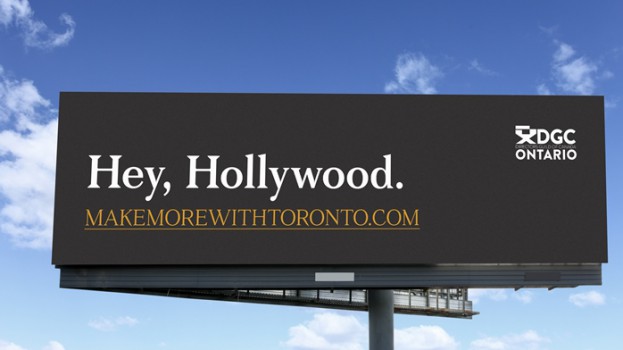 Ahead of the 44th annual Toronto International Film Festival (TIFF), DGC Ontario is calling on Hollywood bigwigs to consider using Toronto talent for their next production.
Officially kicking off today (Sept. 3), the organization has launched "Hey, Hollywood," an advertising campaign comprised of messages like "Hey, Warner Bros. Wondering if you should produce your next picture with Toronto directors? Just ask Hulu. And Handmaid's Tale's 11 Emmys."
The campaign, launched in partnership with Toronto-based creative agency Juliet, consists of billboards along the Queen Elizabeth Way and the arrivals terminal of the Toronto Pearson International Airport, as well as a URL (makemorewithtoronto.com) spotlighting Canadian directors, production designers, picture editors and sound editors. The ad campaign, which is a first for DGC Ontario, will run throughout TIFF.
Alan Goluboff, chair of the DGC Ontario executive board, told Playback Daily that it was the right time for this campaign due to the success of the Ontario industry in recent years. For instance, Ontario-made The Shape of Water picked up best picture, best director, best production design and best original score at the 2018 Academy Awards. Meanwhile, Toronto-shot The Handmaid's Tale has won a total of 11 Emmys and currently has 11 nominations at this year's awards.
"We want to let the world know – and the major players know, particularly in Hollywood – that we have a huge amount of creative talent here and you guys should be thinking about that before you make any final decisions," he explained. Ultimately, he hopes "Hey, Hollywood" will drive decision makers to think more seriously about staffing productions with local professionals like directors, designers and more.
In addition to Toronto, DGC Ontario also recently launched banner ads and social media ads for the campaign in L.A. on Aug. 20, both of which targeted studio executives through geo-fencing the zip codes of all the major U.S. studios in the region.
According to the CMPA's recent Profile report, the total volume of film and TV production in Canada reached an all-time high of $8.92 billion in 2017/18, with the majority of growth coming from foreign location and service production (FLS, $4.77 billion). Additionally, in Ontario, FLS production rose from $882 million to $910 million in 2017/18.
"Hey, Hollywood" is the second Canadian talent-focused campaign to launch this year following MADE | NOUS. A CMF-led initiative supported by more than 30 industry partners like Bell Media, CBC and Corus, MADE | NOUS celebrates the achievements of Canadian actors, writers, directors, game developers and special effects artists.
Image courtesy of DGC Ontario