In Brief: Bell Media preps launch of new Mike Holmes series
Plus: Telus Optik original wrestling comedy Paper Champions lands on Amazon Prime Video, and more.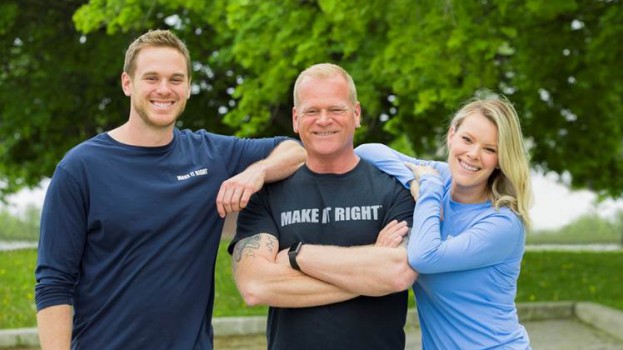 Holmes 911 set for Sept. 17 premiere on CTV Life
With less than two weeks until Bell Media launches four rebranded specialty channels under the CTV banner, the company has set the premiere date for one of its new flagship properties. Holmes 911 (12 x 1 hour, pictured), one of two upcoming Mike Holmes series with Bell Media, will make its debut on Tuesday Sept. 17 at 9 p.m. on CTV Life Channel (formerly Gusto). The series follows the professional contractor, his son Mike Jr. and daughter Sherry as they help rescue five different homes from issues like DIY projects gone wrong and more. Encore airings are set for Saturdays at 1 p.m. on CTV Life. Episodes will also be available on-demand. In June, Bell Media unveiled the rebrand of its specialty networks like Gusto would take place on Sept. 12.
Telus original Paper Champions gets into the ring

Telus Optik original series Paper Champions, produced by Vancouver's Rogue Panda Pictures in conjunction with Telus Originals and Alberta's Full Swing Productions, is lacing up its boots and jumping into the ring. The wrestling comedy series launches today (Aug. 30) on Telus Optik in Canada and Amazon Prime Video in Canada, the U.S., U.K., Ireland, Australia, New Zealand, South Africa and 53 other regions. Born out of actor Brady Roberts' real life experiences as an independent wrestler, the seven-episode, roughly 15-minute series follows a novelist who inherits her father's wrestling company. Matt Ewart and Mike Howorun penned the comedy, while Theo Kim directs. The series represents Rogue Panda's first independently produced comedy series. Paper Champions is produced by Roberts, Howorun, Ewart, Matthew Hall, Scott Westby and Matt Watterworth. The prodco has also teamed up with Vancouver distributor And Now Global for additional international sales and development at MIPCOM in October. In addition to Roberts, Paper Champions stars Kylee Bush, Paul Lazenby, Peter Chao and Adam Kozlick.
BGM's 9/11: Cleared for Chaos to air on Discovery next month
Discovery channel will debut its new documentary 9/11: Cleared for Chaos on Sept. 11 at 10 p.m. ET. The hour-long doc is produced by Toronto's Bristow Global Media (BGM), in association with Discovery, and directed by Gary Lang. It follows the efforts of the air traffic controllers in Gander, NL to safely land more than 200 planes when U.S. airspace shut down on Sept. 11, 2001. Cleared for Chaos was first announced as a two-part docuseries in 2018. Executive producers on the doc are BGM president Julie Bristow and VP, content, Marlo Miazga. It was partially financed through the Rogers Cable Net Fund. The doc will be available to stream on Crave following the premiere.
With files from Kelly Townsend