Eggplant, Grande Camera partner on North Bay facility
Now fully operational, the shared space allows the companies to take advantage of the region's booming production sector.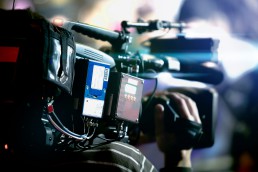 Toronto's Eggplant Picture & Sound and Grande Camera Toronto (formerly Dazmo Camera) have teamed up to launch a new shared facility in North Bay, ON to take advantage of the region's booming production sector.
Based at Booth Road, the space – which is now fully operational – offers camera daily processing, data backup, pre-mix services and video and sound edit suites.
In a statement, Grande Camera Toronto general manager Jason Kennedy said the collaboration allows the two to combine their resources, package services and expand their client base. Meanwhile, Eggplant's Paul Moyer added that over the past three years the company has been increasingly targeting sales in the film and dramatic TV series space, noting that this expansion into North Bay will allow Eggplant to continue to grow in these areas.
In addition to support from their respective Toronto offices, two new locally-based staff have been hired. Additionally, according to a release, the plan is to use existing facilities at Canadore College to offer clients access to both ADR services and final mixes, as needed. Last year, Canadore College opened a 5,588-sq-ft post-production centre with a Dolby Atmos mix stage, a colour correction suite and ADR stage via support from the Northern Ontario Heritage Fund (NOHFC), FedNor and Canadore.
Productions that have recently rolled in North Bay include director Audrey Cumming's She Never Died and Nowhere from Backcountry's Thomas Michael. In June, Sienna Films received a total of $3.4 million in funding from the Ontario government towards season four of Cardinal, which shoots in North Bay and Sudbury.
Eggplant recently worked on Amy Jo Johnson's Tammy's Always Dying, while Grande Camera worked on North Bay-shot The Rest of Us. Both features will make their world premieres at the Toronto International Film Festival next month.
Image: Shutterstock