FIN Atlantic '19: A Fire in the Cold Season among world premieres
Additionally, Heather Young's feature debut Murmur will serve as the Halifax festival's Opening Night Gala presentation.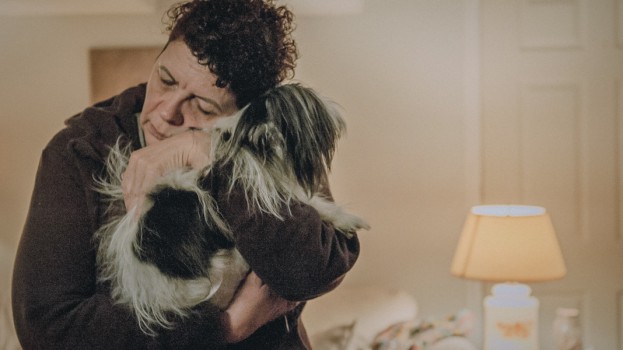 The FIN Atlantic International Film Festival has selected Justin Oakey's A Fire in the Cold Season, Melanie Oates' Body & Bones and R.W. Gray's Entropic to world premiere as part of its Features program.
Produced by Oakey and Marc Tetreault, A Fire in Cold Season tracks a fur trapper and a mother-to-be who find a body on the side of the river as they are stalked by violent outlaws. The drama stars Stephen Oates, Michaela Kurimsky, Steve Lush and Terry Ryan.
Meanwhile, Body & Bones, produced by Chris Hatcher and Oates, follows 18-year-old Tess (played by Kelly Van Der Burg), a woman who finds comfort in listening to local music legend Danny Sharpe (Little Dog's Joel Thomas Hynes). Things start to change for her when she wakes up to find Sharpe in her kitchen. In addition to Van Der Burg and Thomas Hynes, the feature stars Lawrence Barry, Ruth Lawrence and Stephen Payette.
And produced by Gray alongside Jon Dewar and Matt Rogers, Entropic follows an introverted man who struggles to help the most beautiful person he knows. The film's cast includes Khalid Klein, Stephen Huszar, Christopher Jacot, Sabryn Rock, Christine Horne, Tommy James Murphy, Eldon Thiele and Carlos Gonzalez-Vio.
Held over the course of eight days in Halifax, this year's festival will also see Halifax filmmaker Heather Young's debut feature film Murmur (pictured) serve as its Opening Night Gala, while director Robert Eggers' Nova Scotia-shot The Lighthouse will close out the fest. One of Telefilm Canada's 2018 Talent to Watch projects, Murmur is set to make its world debut in TIFF's Discovery section.
Other world premieres at the festival include: Steven Palmer and Edward Riche's Ghost Artist; director Rosvita Dransfeld's Her Last Project; writer/director Ellie Yonova's Luben & Elena: The Love of Art and the Art of Love; director Kent Martin's Nakatuenita – Respect; Alan Collins' Searching For God In India; Julie Stewart and James Stanley's We Are Sailor People; and finally, L'Nuk 101: Finding Common Ground and Atautsikut/Leaving None Behind, which will screen together. All of the above are set for FIN Atlantic's Documentaries program.
Elsewhere, the Gala Presentations lineup will see films like John Walker's Assholes: A Theory; Conviction from co-directors Nance Ackerman, Ariella Pahlke and Teresa MacInnes; Francois Girard's The Song of Names; Atom Egoyan's Guest of Honour; and Francois Ozon's Grace a Dieu ("By the Grace of God") screen. In addition to FIN Atlantic, both The Song of Names and Guest of Honour are also set for TIFF, with Guest of Honour making its world premiere in competition at the Venice International Film Festival.
Also, as part of FIN Atlantic's Gala Presentations, the Reel East Coast Shorts Gala will feature nine short films from filmmakers. Presented by CBC, creators include: Deanne Foley's Radical; Jillian Acreman's North; Adam DeViller's Bad Morning; Millefiore Clarkes' Solastalgia; Anna Wheeler's Melody; Bretten Hannam's Wildfire; Charles Wahl's Little Grey Bubbles; Jenna MacMillan's Sunnyside; and Sandi Rankaduwa's Ice Breakers.
Rounding out the list, Canadian projects include Sophie Deraspe's Antigone, Kathleen Hepburn and Elle-Maija Tailfeathers' The Body Remembers When the World Broke Open, Alanis Obomsawin's Jordan River Anderson, The Messenger; Louise Archambault's Il pleuvait des oiseaux ("And the Birds Rained Down"), Laurie Lynd's Killing Patient Zero; Johnny Ma's To Live to Sing, Matthew Rankin's The Twentieth Century, Aisling Chin-Yee's The Rest of Us, and Ricky Tollman's Run This Town.
The FIN Atlantic International Film Festival runs for Sept. 12 to 19, 2019. See the full film lineup here.
Image of Murmur courtesy of TIFF