Four features share Quebecor Fund coin
Miryam Bouchard (pictured) and Ricardo Trogi's latest are among the titles selected.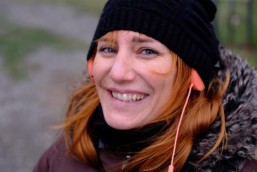 The Quebecor Fund has selected projects from Ricardo Trogi, Miryam Bouchard (pictured) and Sylvain Guy to share a total of $930,000 in funding through its Film Production Assistance Program.
Trogi's film, Guide de la famille parfaite, examines the complexities of raising children through the story of a blended family. Produced by KO 24, the comedy was penned by Louis Morisette. Christian Larouche's recently launched Les Films Opale banner is set to distribute.
Meanwhile, Bouchard's Attraction Images-produced Mon cirque à moi also netted coin. Co-written by Martin Forget and the director whose credits include shows like Mon ex a mi, Mon cirque à moi tells the story of a young girl who has grown up living a bohemian life with her father, a clown. Working with a new teacher, the girl is encouraged to attend a private high school. Set to be distributed by Les Films Seville, production started last week in Montreal.
Rounding out the group is La cordonnière and Confessions d'un tueur à gages.
Written by Guy and directed by François Bouvier, La cordonnière is produced by Caramel Films and tells the story of Victoire Du Saut, the founder of a shoe-repair shop, and his love triangle.
Also penned by Guy, Gallant tracks the life of hitman Gérald Gallant. The film is set to be directed by Luc Picard and produced by Larouche. Both titles will be distributed by Larouche's Les Films Opale.
Past Film Production Assistance Program recipients include Xavier Dolan's Matthias et Maxine; Louise Archambault's Merci pour tout; Martin Cadotte's Mr. Freeze et Allumette; and Felix et le tresor de Morgaa from writer Marc Robitaille and director Nicola Lemay.
Additionally, the Quebecor Fund also announced that Encore Television-Distribution and Groupe PVP's PVP Animation IV will share $300,000 from its Export Assistance Program (EXAP), which helps fund the development of audiovisual content adapted for international audiences and various marketing efforts.