CBS All Access enters kid-con space through DHX, Boat Rocker deals
The U.S.-based streamer has acquired new seasons of Cloudy With a Chance of Meatballs and Danger Mouse, in addition to more than 1,000 hours of library content.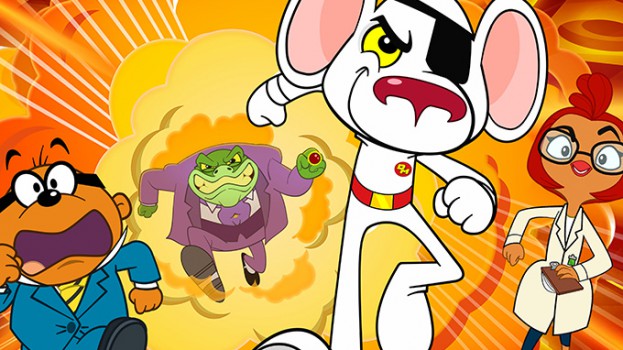 CBS All Access has acquired the U.S. rights to series from Boat Rocker Media and DHX Media as the U.S. streaming service makes its first foray into children's content.
All Access picked up new seasons of Cloudy With a Chance of Meatballs, which DHX produces with Sony Pictures Animation, and the rebooted version of Danger Mouse (pictured), which Boat Rocker produces with BBC Children's Productions.
In addition to those acquisitions, the streamer licensed more than 1,000 hours of kids programming, including DHX's Inspector Gadget, The Adventures of Paddington Bear, Madeline and Heathcliff and the Boat Rocker-owned back catalogue to Danger Mouse. CBS said the content will roll out on the service later in the year, though exact timings were not provided. The deal does not include Canada, according to a CBS spokesperson.
CBS All Access launched in the U.S. in October 2014 and has more recently expanded into Canada (in April 2018) and Australia (under the name 10 All Access). Estimates suggest the service has around 4 million subscribers in total.
In recent years international streamers, in particular Netflix, have poured vast sums of money into bolstering their kids programming, with a view to diversifying their content offerings and increasing subscriber retention. CBS Interactive's president and COO Marc DeBevoise said the move into kids programming is intended to appeal to its subscribers' kids. "Based on the age and demographics of our subscriber base, with an average age of 44, we see a significant opportunity to invest in children's programming and provide even more value for subscribers with new originals and a world-class library, specifically catered to our subscribers' children."
CBS All Access' other original content offerings include Toronto-shot Star Trek: Discovery, as well as The Good Fight and The Twilight Zone.
For DHX, the greenlight comes as it shifts its business model to focus on creating higher-budgeted kids fare for digital platforms and exploiting its vast library across international platforms. On the production front, DHX is making exclusive Peanuts content for Apple's soon-to-launch streaming service. Meanwhile, the Halifax-based company recently announced the launch of its first ad-free OTT product. The platform, called Kids Room, is available in the U.S. through Comcast's Xfinity X1 platform and contains content from DHX's 13,000-hour library.
Meanwhile, for Boat Rocker, the commission comes after it acquired the Danger Mouse IP via its purchase of Fremantle's kids and family business last year.